Free Shipping

When you spend $50 and more

Quality Guarantee

Your happiness is our priority

Manufacturer Direct

Shop direct

Secure Checkout

Always private, safe, and secure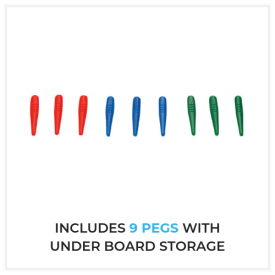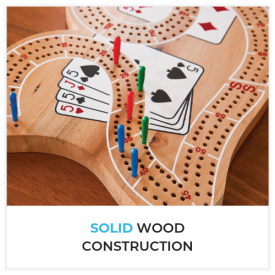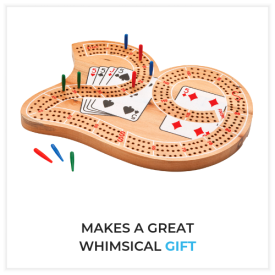 Enjoy one of your all time favorite classics in a brand new way with the Mainstreet Classics 29 Cribbage Board.
This board has all of the pieces necessary to start playing this family favorite. The board is designed with a three slot track, going all the way around, following the 29 pattern. Constructed from solid wood for long-lasting durability, the 29 board is finished with a clear varnish to show off the natural beauty of the wood. Snappy designs on the front exhibit the best cribbage hand and a double "S" design for a sharp overall look. Nine colored pegs, in three different colors, are included for a three player game. Built into the back is a slotted channel for the storage of all the included pieces so you won't have to worry about losing them.
Enjoy the beloved card game in a brand new way with this uniquely shaped board
Made from solid wood for long lasting durability and natural beauty with a clear finish
Board decorations include the best possible cribbage hand and double "S" designs
Complete with nine playing pieces of different colors
A slotted channel on the back of the board can be used for convenient storage of all pieces
Product Details
| | |
| --- | --- |
| Length: | 9.9 in |
| Width: | 7.0 in |
| Height: | 0.6 in |
| Weight: | 0.6 lbs |
| Warranty: | GLD Products Refurbished Guarantee |
WARNING: This product may expose you to chemicals such as Chromium which is known to the state of California to cause Cancer, birth defects and/or other reproductive harm. For more information, please go to P65Warnings.ca.gov
Shipping
This item Ships to
Delivery
Estimated between and
Our shipping team makes every effort to ship within 1-2 business days. Learn more here.
Fast Shipping

We work hard to ship your order as soon as possible, even orders with free shipping! We ship most orders out the same business day when placed before 1:00 PM Central time. Large game tables typically only take 1-2 business days to ship - one of the fastest ship times in the industry. Free shipping and any shipping estimates apply to US shipments only. Learn more about our shipping policies here.

Quality Guarantee

We stand by the quality of our products. If there's a defect, it breaks, or you've changed your mind, simply contact us and we'll work to make it right.

Manufacturer Direct

By shopping directly from GLD Products, we guarantee you're shopping the largest selection of Viper, Fat Cat, Casemaster, and Mainstreet Classics products found anywhere, on- or off-line. You can rest assured the product you receive is 100% authentic, and if anything goes wrong or you have any questions, our knowledgeable support staff is just an email away.

Secure Checkout

Financial security is essential when buying online. That's why we never store any of your payment information. We don't even see it! All payments are processed directly through Paypal, so your information is private, safe, and secure.
Cute, nostalgic shaped board