Free Shipping

When you spend $50 and more

Quality Guarantee

Your happiness is our priority

Manufacturer Direct

Shop direct

Secure Checkout

Always private, safe, and secure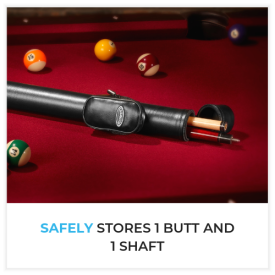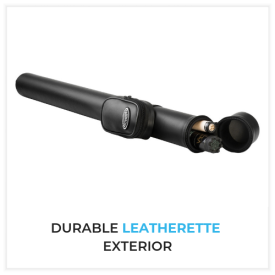 The ultimate solution in cue transportation is the Casemaster Q-Vault Supreme.
The Q-Vault Supreme features a classic leatherette exterior engineered to repel the elements. Keep your cues in the perfect dry condition while safeguarding them from warping. Inside, the hard resin shell is covered in a soft cloth lining, bolstering your cues against heavy impacts and preventing cracking and breaking. The Q-Vault is your total solution for a night out at the pool hall or your buddy's man cave. It has a large pocket perfect for holding all of the accessories you might need to dominate the competition, such as extra tips, shapers, chalk and other repair tools. The Q-Vault features a handy carrying handle for convenient, easy transport. The Q-Vault Supreme stores one butt and one shaft.
Durable leatherette exterior for protection from drops and outside elements
Soft lined interior cushions cues against impact
Large storage pocket holds a multitude of accessories
Removable accessory pouch for maximum portability
Convenient carrying strap allows for easy transportation
Holds one butt and one shaft
Product Details
| | |
| --- | --- |
| Length: | 31.75 in |
| Width: | 4.0 in |
| Height: | 2.6 in |
| Weight: | 1.35 lbs |
| Warranty: | GLD Products Refurbished Guarantee |
WARNING: This product may expose you to chemicals such as DEHP & DINP which is known to the state of California to cause Cancer, birth defects and/or other reproductive harm. For more information, please go to P65Warnings.ca.gov
Shipping
This item Ships to
Delivery
Estimated between and
Our shipping team makes every effort to ship within 1-2 business days. Learn more here.
Fast Shipping

We work hard to ship your order as soon as possible, even orders with free shipping! We ship most orders out the same business day when placed before 1:00 PM Central time. Large game tables typically only take 1-2 business days to ship - one of the fastest ship times in the industry. Free shipping and any shipping estimates apply to US shipments only. Learn more about our shipping policies here.

Quality Guarantee

We stand by the quality of our products. If there's a defect, it breaks, or you've changed your mind, simply contact us and we'll work to make it right.

Manufacturer Direct

By shopping directly from GLD Products, we guarantee you're shopping the largest selection of Viper, Fat Cat, Casemaster, and Mainstreet Classics products found anywhere, on- or off-line. You can rest assured the product you receive is 100% authentic, and if anything goes wrong or you have any questions, our knowledgeable support staff is just an email away.

Secure Checkout

Financial security is essential when buying online. That's why we never store any of your payment information. We don't even see it! All payments are processed directly through Paypal, so your information is private, safe, and secure.