Free Shipping

When you spend $50 and more

Quality Guarantee

Your happiness is our priority

Manufacturer Direct

Shop direct

Secure Checkout

Always private, safe, and secure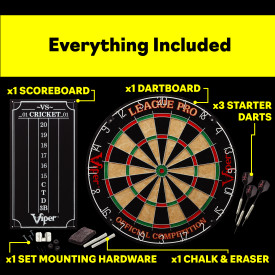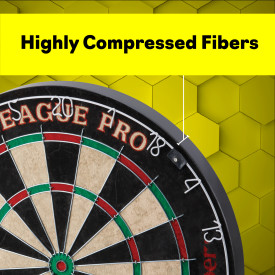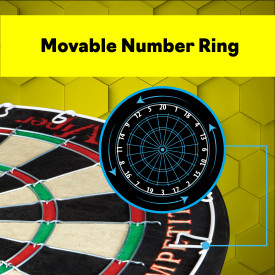 Become a darting ace with the Viper League Pro Sisal Dartboard!
The League Pro dartboard is constructed from compressed sisal fibers, the latest innovation in steel tip darting. These dartboards will last years longer than their old school wood or paper counterparts. With a 100% staple-free bullseye, this dartboard will reduce your chance of a bounce-out occurring while you shoot for a bullseye, increasing your scores. Other dartboards secure the spider with staples, increasing bounce-outs and frustration.
The League Pro also features galvanized steel wire spider. This gives the spider great durability and strength to last the life of the board. These wires are rounded, further reducing your chance of a bounce-out, and giving your average score per dart a boost, as darts slide off the wire and into the board.
As you play and improve your dart game, you'll find yourself becoming more consistent where your darts land, and high scoring targets can wear unevenly. That's why the League Pro dartboard features a movable number ring. Just detach and rotate, and your prime spots will move to a fresh point on the board, significantly extending its life!
This dartboard includes everything you need to get started: a cricket scoreboard with chalk and eraser, a set of steel tip darts, easy-to-use mounting hardware and a game manual. You'll find yourself unable to put your darts down after you begin playing on the League Pro, complete your game room today!
Tournament Quality Regulation 17.75" diameter
Can accommodate both steel tip and soft tip darts
Constructed from self-healing compressed sisal fibers
Staple free bullseye minimizes bounce outs
Galvanized rounded wire spider allows darts to glide into board
Movable number ring allows you to rotate the dartboard, extending its life
Includes cricket scoreboard, chalk, eraser, mounting hardware, and steel tip darts
Product Details
| | |
| --- | --- |
| Length: | 17.75 in |
| Width: | 17.75 in |
| Height: | 1.6 in |
| Weight: | 9.4 lbs |
| Warranty: | GLD Products Refurbished Guarantee |
WARNING: This product may expose you to chemicals such as Formaldehyde which is known to the state of California to cause Cancer, birth defects and/or other reproductive harm. For more information, please go to P65Warnings.ca.gov

Shipping
This item Ships to
Delivery
Estimated between and
Our shipping team makes every effort to ship within 1-2 business days. Learn more here.
Fast Shipping

We work hard to ship your order as soon as possible, even orders with free shipping! We ship most orders out the same business day when placed before 1:00 PM Central time. Large game tables typically only take 1-2 business days to ship - one of the fastest ship times in the industry. Free shipping and any shipping estimates apply to US shipments only. Learn more about our shipping policies here.

Quality Guarantee

We stand by the quality of our products. If there's a defect, it breaks, or you've changed your mind, simply contact us and we'll work to make it right.

Manufacturer Direct

By shopping directly from GLD Products, we guarantee you're shopping the largest selection of Viper, Fat Cat, Casemaster, and Mainstreet Classics products found anywhere, on- or off-line. You can rest assured the product you receive is 100% authentic, and if anything goes wrong or you have any questions, our knowledgeable support staff is just an email away.

Secure Checkout

Financial security is essential when buying online. That's why we never store any of your payment information. We don't even see it! All payments are processed directly through Paypal, so your information is private, safe, and secure.