Free Shipping

When you spend $50 and more

Quality Guarantee

Your happiness is our priority

Manufacturer Direct

Shop direct

Secure Checkout

Always private, safe, and secure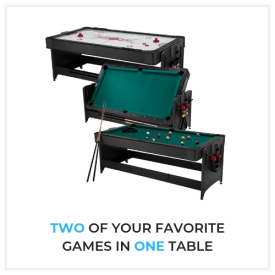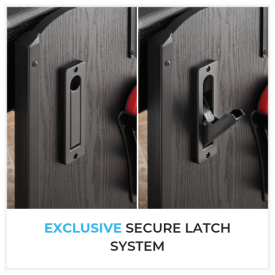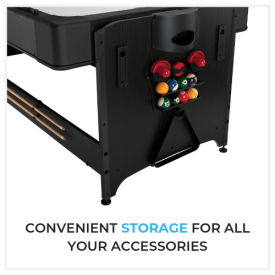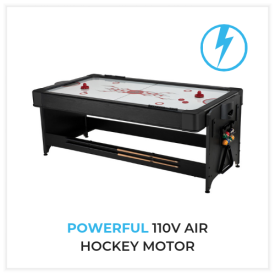 All of the most popular games are now at your disposal, in a third of the space with the Fat Cat 2-in-1 Pockey Table!
This revolutionary multi-game table design offers an unprecedented two of the most popular game room games that would normally take up the space of two separate tables in a single unit! Your family will be in for hours of fun flipping between the different games the Pockey table has to offer! Each table surface is optimized for its game, ensuring a great experience no matter what game you play.
Billiards
The billiard side of the Pockey Table features a smooth durable playing surface that plays just like a pro table. With a sleek built-in pocket design, the table is totally contained. The space-saving playing field is surrounded by real rubber bumpers for an authentic bounce and covered in heavy duty cloth.
Air Hockey
On the flip side of the billiard table is the air powered hockey table. Where other tables feature motorless 'slide hockey,' the Pockey Table features a full-powered electric motor that can output up to 80 cubic feet of air per minute. The extra glossy playing surface features hockey rink graphics for an excellent atmosphere during games. Easily keep track of the score with a manual scorer.
Table Construction & Included Accessories
Changing between game modes is a snap with the exclusive latch system that locks the table into place for a stable game. The reversible table top is housed in a versatile frame complete with storage for the plethora of accessories included in this all-in-one package. Speaking of accessories, the Pockey Table includes: four pushers and pucks, a set of 2.25" billiard balls, a resin triangle, two 57" cue sticks, two pieces of chalk, and a billiard brush.
Get two games for the price of one in this space-saving table
Featured games are Billiards and Air Hockey, full games without sacrificing quality
Our exclusive latch system makes changing games a snap, just unlock the latches and flip it over
Can also be locked upright for simple storage
Convenient 7 foot size fits easily into tight game room spaces
Includes all of the accessories needed to play the games you love
Product Details
| | |
| --- | --- |
| Length: | 87.0 in |
| Width: | 44.0 in |
| Height: | 32.0 in |
| Weight: | 272.0 lbs |
| Warranty: | 90 days |
Download Product Manual
WARNING: This product may expose you to chemicals such as Formaldehyde which is known to the state of California to cause Cancer, birth defects and/or other reproductive harm. For more information, please go to P65Warnings.ca.gov
Questions about this warning? Check out our Prop 65 info page.
Shipping
This item Ships to
Delivery
Estimated between and
Our shipping team makes every effort to ship within 1-2 business days. Learn more here.
Fast Shipping

We work hard to ship your order as soon as possible, even orders with free shipping! We ship most orders out the same business day when placed before 1:00 PM Central time. Large game tables typically only take 1-2 business days to ship - one of the fastest ship times in the industry. Free shipping and any shipping estimates apply to US shipments only. Learn more about our shipping policies here.

Quality Guarantee

We stand by the quality of our products. If there's a defect, it breaks, or you've changed your mind, simply contact us and we'll work to make it right.

Manufacturer Direct

By shopping directly from GLD Products, we guarantee you're shopping the largest selection of Viper, Fat Cat, Casemaster, and Mainstreet Classics products found anywhere, on- or off-line. You can rest assured the product you receive is 100% authentic, and if anything goes wrong or you have any questions, our knowledgeable support staff is just an email away.

Secure Checkout

Financial security is essential when buying online. That's why we never store any of your payment information. We don't even see it! All payments are processed directly through Paypal, so your information is private, safe, and secure.
Lots of fun in a fairly small space
Delivery was quick, customer service was excellent. When we needed a replacement part it was here in just a few days.
Outstanding
The table has been great. The kids 11, 8 and 5 y.o. can't stop playing. Very good value for the money.