Free Shipping

When you spend $50 and more

Quality Guarantee

Your happiness is our priority

Manufacturer Direct

Shop direct

Secure Checkout

Always private, safe, and secure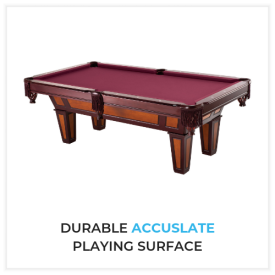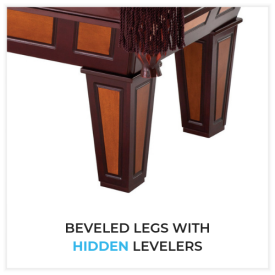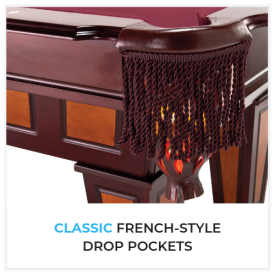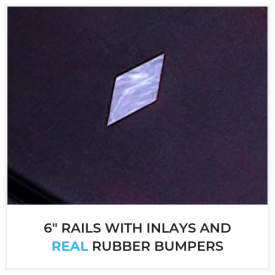 Make your game room the talk of all your friends with the Fat Cat Reno Billiard Table! The surface is made of Accuslate, a lightweight and affordable alternative to slate. It's easier to set up and designed to be perfectly level for years to come. It also features 1.5" thick, solid wood rails that feature K66 rubber bumpers. These bumpers retain their elasticity and responsiveness for years of play. They are also lined with diamond inlays to help you line up the perfect shots. The table legs feature a built-in leveling system so you can play anywhere, even on uneven floors. The rich wine-colored cloth cover, French style drop pockets, and dark cherry finish make it the perfect addition to any game room. The Reno pool table comes with everything you need to play: a complete set of billiard balls, two 57" cue sticks, one resin triangle, two pieces of cue chalk, and a rail brush.
7.5' Billiard Table - The Reno billiard table is the ideal size for both youth and adult players and makes a perfect addition to any game room
Built-In Leg Leveling - Play anywhere, even on uneven floors, with the built-in leg leveling system that makes setup easy
Accuslate Surface - A lightweight and affordable alternative to slate, the Accuslate surface is easier to set up and move, but is designed to be level for years to come
7 Year Warranty - Play with the comfort of knowing the Accuslate surface is covered for seven years from your purchase date
Strong Rails - 6" wide and 1.5" thick, solid wood rails are equipped with K66 rubber bumpers for elastic responsiveness for years of play
Included - Two 57" cues, two pieces of chalk, a resin triangle, a rail brush, and a set of 2.25" billiard balls

Product Details
| | |
| --- | --- |
| Length: | 89.5 in |
| Width: | 50.5 in |
| Height: | 31.0 in |
| Weight: | 313.0 lbs |
Download Product Manual
WARNING: This product may expose you to chemicals such as Formaldehyde which is known to the state of California to cause Cancer, birth defects and/or other reproductive harm. For more information, please go to P65Warnings.ca.gov
Questions about this warning? Check out our Prop 65 info page.
Shipping
This item Ships to
Delivery
Estimated between and
Our shipping team makes every effort to ship within 1-2 business days. Learn more here.
Fast Shipping

We work hard to ship your order as soon as possible, even orders with free shipping! We ship most orders out the same business day when placed before 1:00 PM Central time. Large game tables typically only take 1-2 business days to ship - one of the fastest ship times in the industry. Free shipping and any shipping estimates apply to US shipments only. Learn more about our shipping policies here.

Quality Guarantee

We stand by the quality of our products. If there's a defect, it breaks, or you've changed your mind, simply contact us and we'll work to make it right.

Manufacturer Direct

By shopping directly from GLD Products, we guarantee you're shopping the largest selection of Viper, Fat Cat, Casemaster, and Mainstreet Classics products found anywhere, on- or off-line. You can rest assured the product you receive is 100% authentic, and if anything goes wrong or you have any questions, our knowledgeable support staff is just an email away.

Secure Checkout

Financial security is essential when buying online. That's why we never store any of your payment information. We don't even see it! All payments are processed directly through Paypal, so your information is private, safe, and secure.
Fat Cat Reno 7.5' Billiard Table
Fat Cat Reno 7.5' Billiard Table
Great table
So far it's been awesome! Set up was easy. We followed the instructions and ended up with a perfectly balanced and level table. It has been a great addition to our game room. Fits perfectly in the small space we have.
Great Pool Table at this Price Point
We've only had our Fat Cat Reno for 5 days, but we already love it. We've converted a living room that we never sat in to a pool hall. We had a problem with the delivery company. Make sure that you confirm that the delivery will be made as you have instructed. Also a hint: have the container laid down with the top down. It will make it much easier to get at all of the parts.
Good table for the price.
The family has enjoyed playing. Delivery was good as expected. Only one of the legs delaminated partially during assembly, it is not visible since we could turn that portion of the leg to the underside of the table. As long as the balls have a little speed they roll true. When they slow down they will curve a little, and it is a bit worse on one end. The included accessories are fine. The Cue's are generally straight and have been handled by a 7 year old on up to myself. All in all, we are pleased with the table and for the price can partially overlook the little bit of wander when the balls slow down. Not sure if this is a flatness issue with the accuslate or due to the thickness of the fabric playing surface. I would recommend the purchase for anyone interested in a decent table on a budget.