Free Shipping

When you spend $50 and more

Quality Guarantee

Your happiness is our priority

Manufacturer Direct

Shop direct

Secure Checkout

Always private, safe, and secure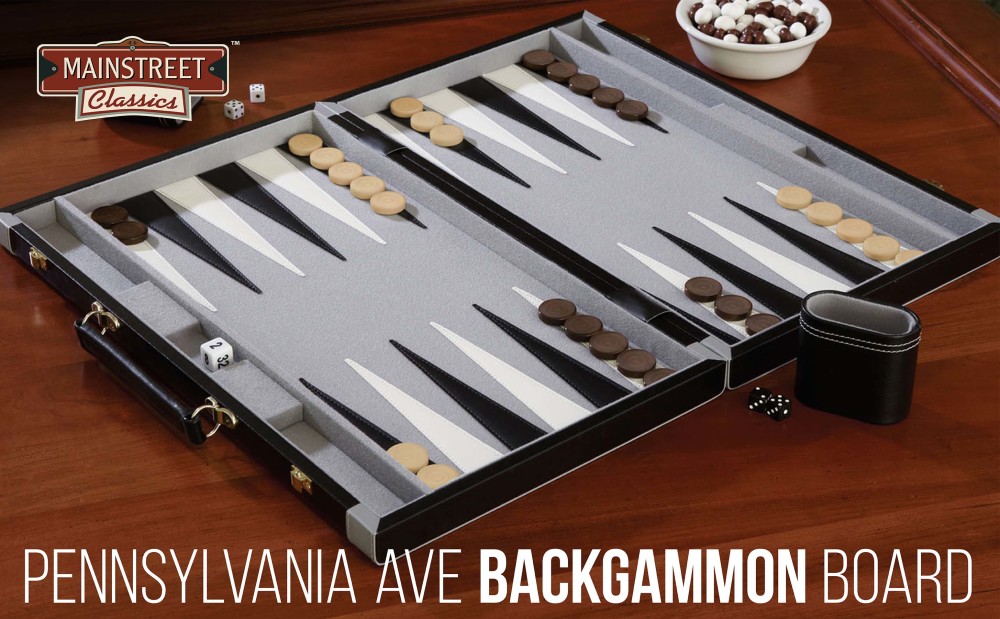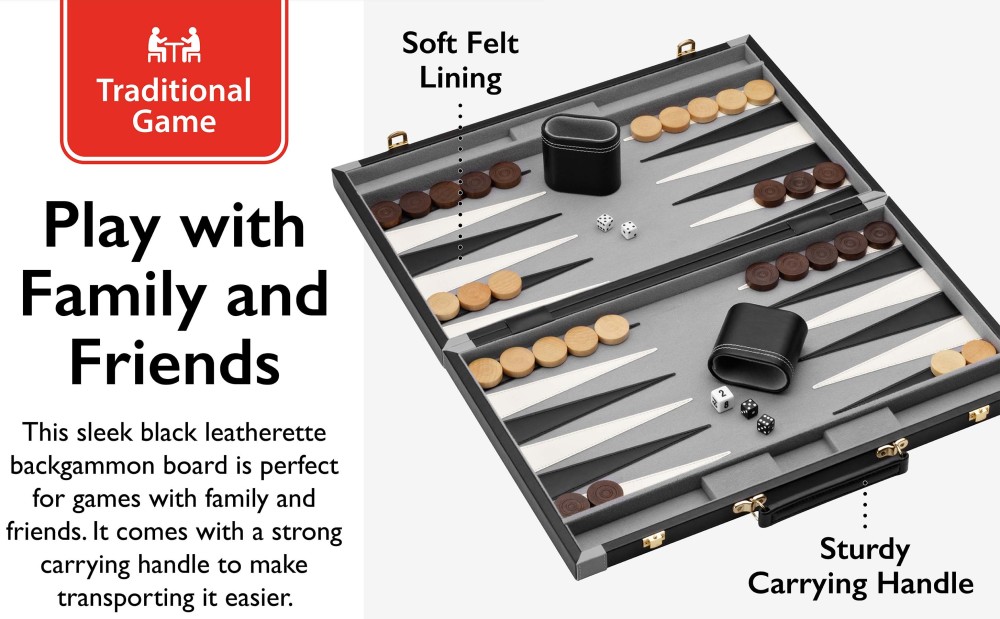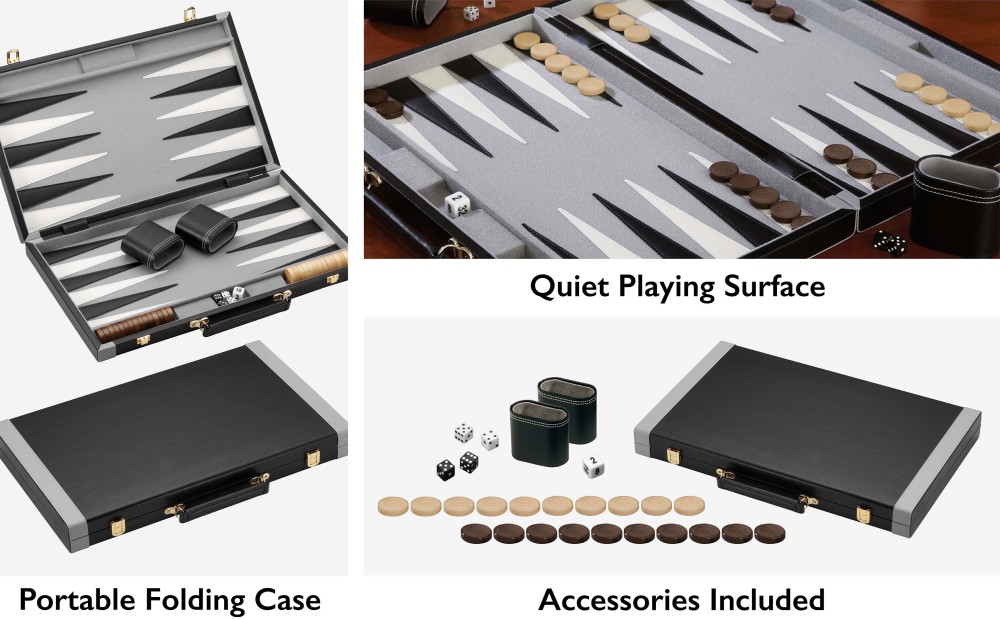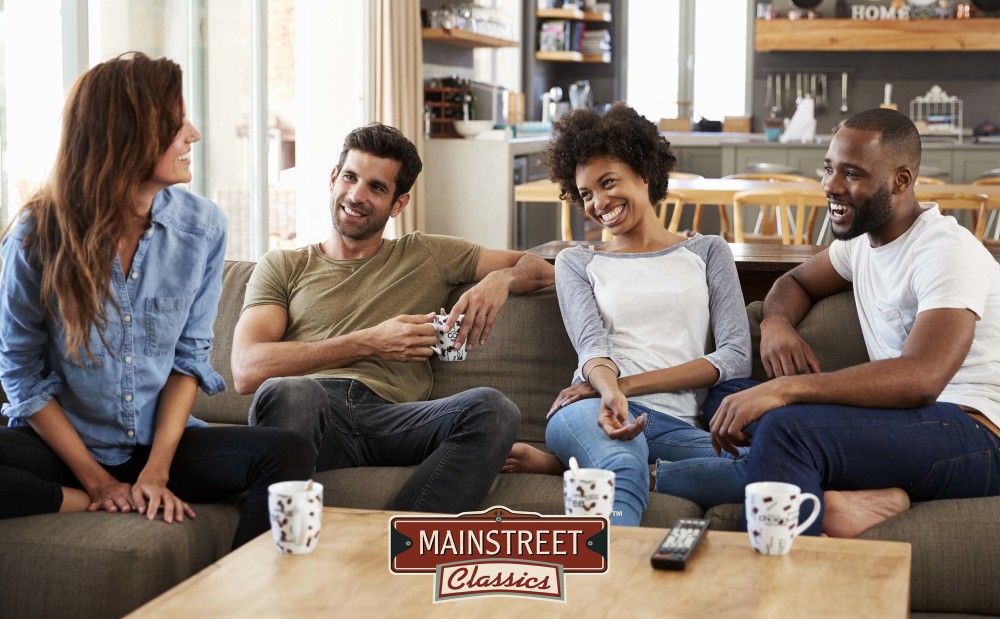 With the Mainstreet Classics Pennsylvania Ave 18" Backgammon set, you can play the historic game of backgammon in a modern way. This sleek black leatherette backgammon board is perfect for games with family and friends. It comes with a strong carrying handle to make transporting it easier. At 18 inches, this backgammon board provides an ideal playing surface so you can roll your dice and move your pieces without feeling cramped. The felt lining provides a soft surface to roll your dice for a quieter and more enjoyable playing experience. The wooden playing pieces are weighted so they don't slide around too much while playing. This backgammon set includes everything you need to start playing: a 18" backgammon board, wooden playing pieces, two leatherette dice cups, a doubling cube, two sets of dice, and playing instructions.
Sturdy Carrying Handle - This sleek leatherette case features two locking clasps and a strong carrying handle so you can carry it around with ease
Quiet Playing Surface - Soft felt lining dampens sound for a quieter and more enjoyable playing experience
Ideal Board Size - At 18" this backgammon board is large enough to comfortably play on but still compact enough to bring with wherever you go
Traditional Game - Enjoy playing with family or friends with this traditional black and white backgammon set
Accessories Included - Includes wooden playing pieces, two leatherette dice cups, a double cube, two sets of dice, and playing instructions
Open Dimensions - (L 22.5" x W 18.25" x H 1.03") Closed Dimensions - (L 18.25" x W 11.25" x H 2.07")
Warranty - 90 days
Product Details
| | |
| --- | --- |
| Length: | 18.25 in |
| Width: | 11.25 in |
| Height: | 2.07 in |
| Weight: | 4.15 lbs |
Download Product Manual
Caution! Choking Hazard: This product includes small objects not suitable for children under 3 years old.
WARNING: This product may expose you to chemicals such as Formaldehyde which is known to the state of California to cause Cancer, birth defects and/or other reproductive harm. For more information, please go to P65Warnings.ca.gov
Questions about this warning? Check out our Prop 65 info page.
Shipping
This item Ships to
Delivery
Estimated between and
Our shipping team makes every effort to ship within 1-2 business days. Learn more here.
Fast Shipping

We work hard to ship your order as soon as possible, even orders with free shipping! We ship most orders out the same business day when placed before 1:00 PM Central time. Large game tables typically only take 1-2 business days to ship - one of the fastest ship times in the industry. Free shipping and any shipping estimates apply to US shipments only. Learn more about our shipping policies here.

Quality Guarantee

We stand by the quality of our products. If there's a defect, it breaks, or you've changed your mind, simply contact us and we'll work to make it right.

Manufacturer Direct

By shopping directly from GLD Products, we guarantee you're shopping the largest selection of Viper, Fat Cat, Casemaster, and Mainstreet Classics products found anywhere, on- or off-line. You can rest assured the product you receive is 100% authentic, and if anything goes wrong or you have any questions, our knowledgeable support staff is just an email away.

Secure Checkout

Financial security is essential when buying online. That's why we never store any of your payment information. We don't even see it! All payments are processed directly through Paypal, so your information is private, safe, and secure.