Free Shipping

When you spend $50 and more

Quality Guarantee

Your happiness is our priority

Manufacturer Direct

Shop direct

Secure Checkout

Always private, safe, and secure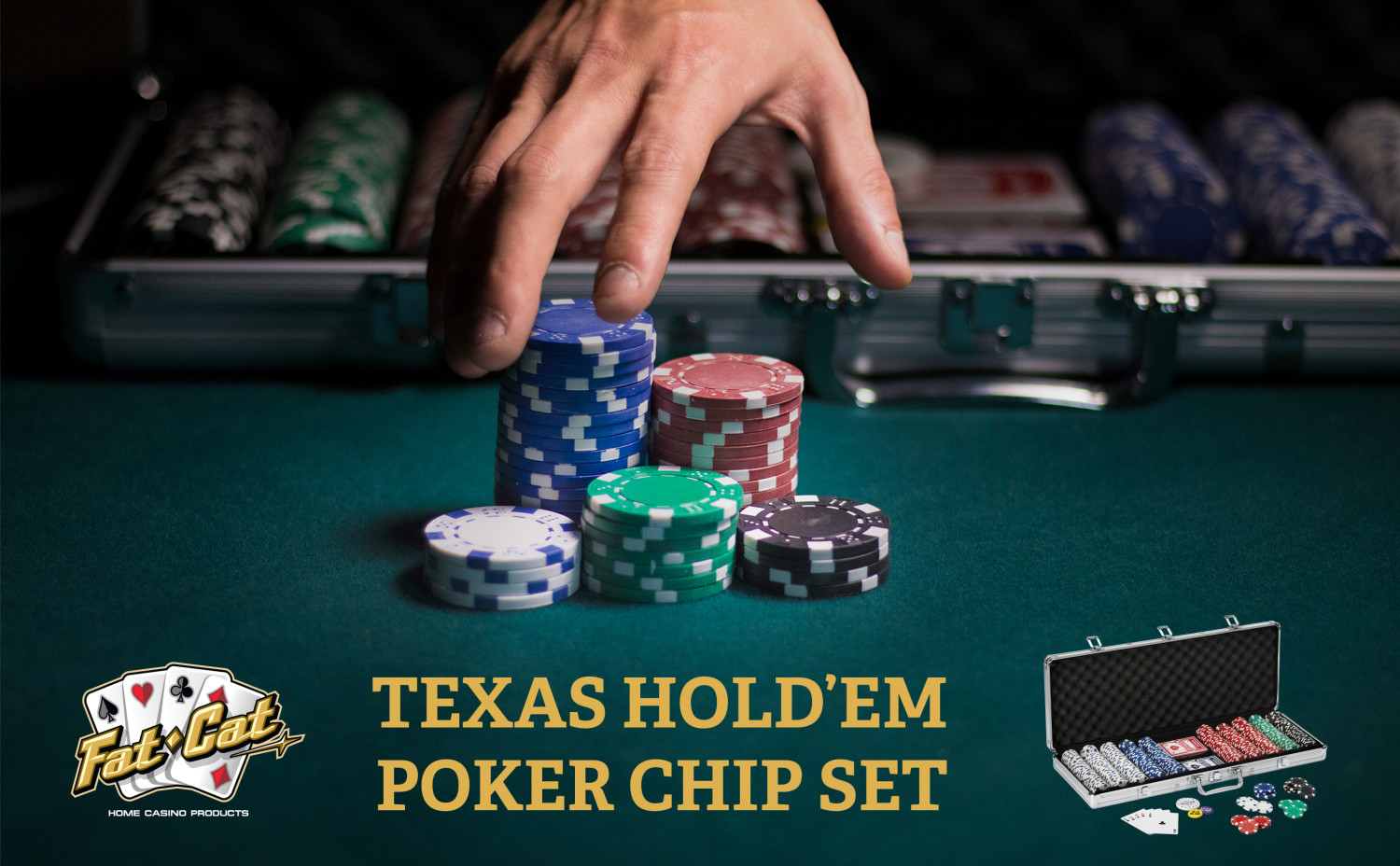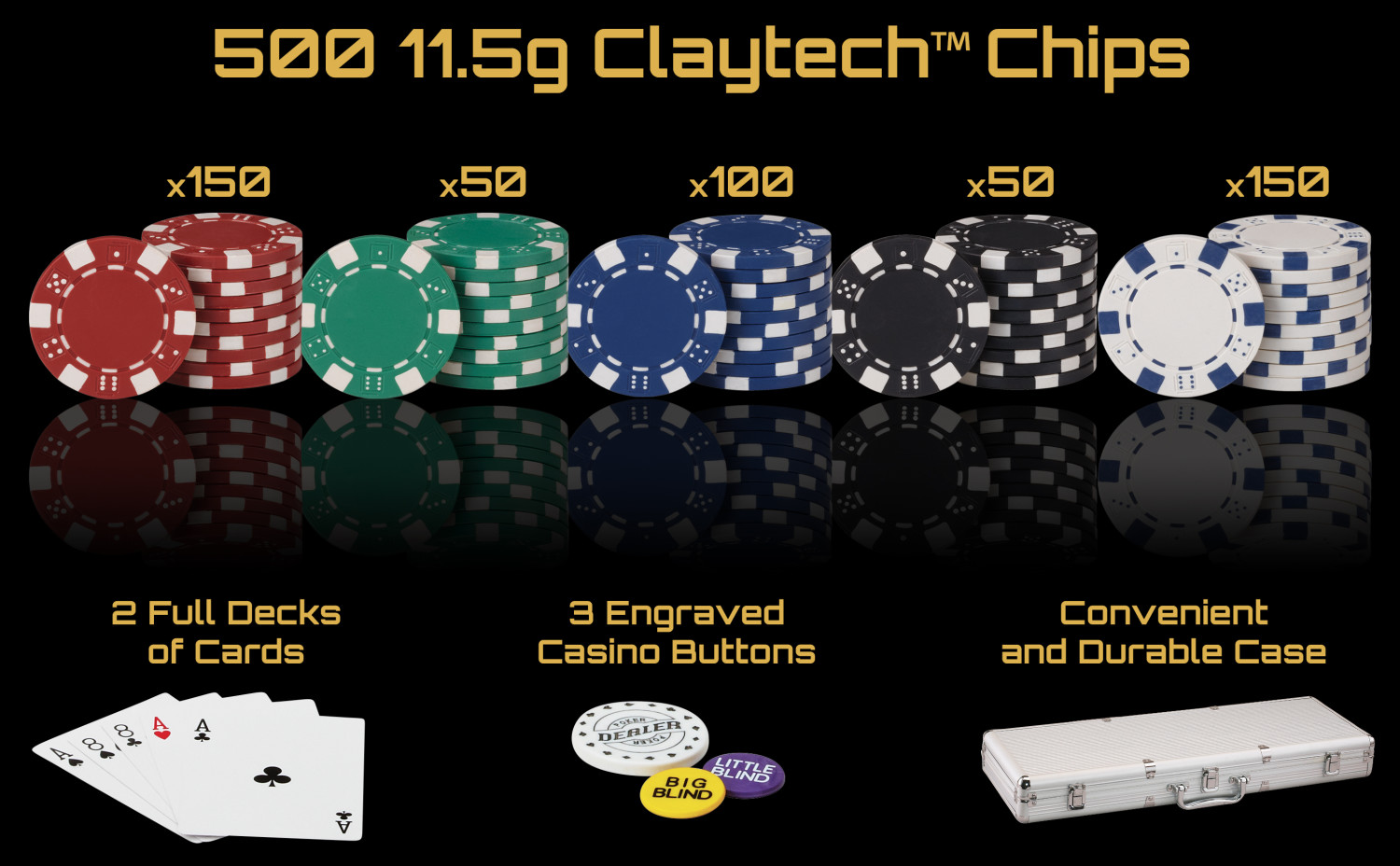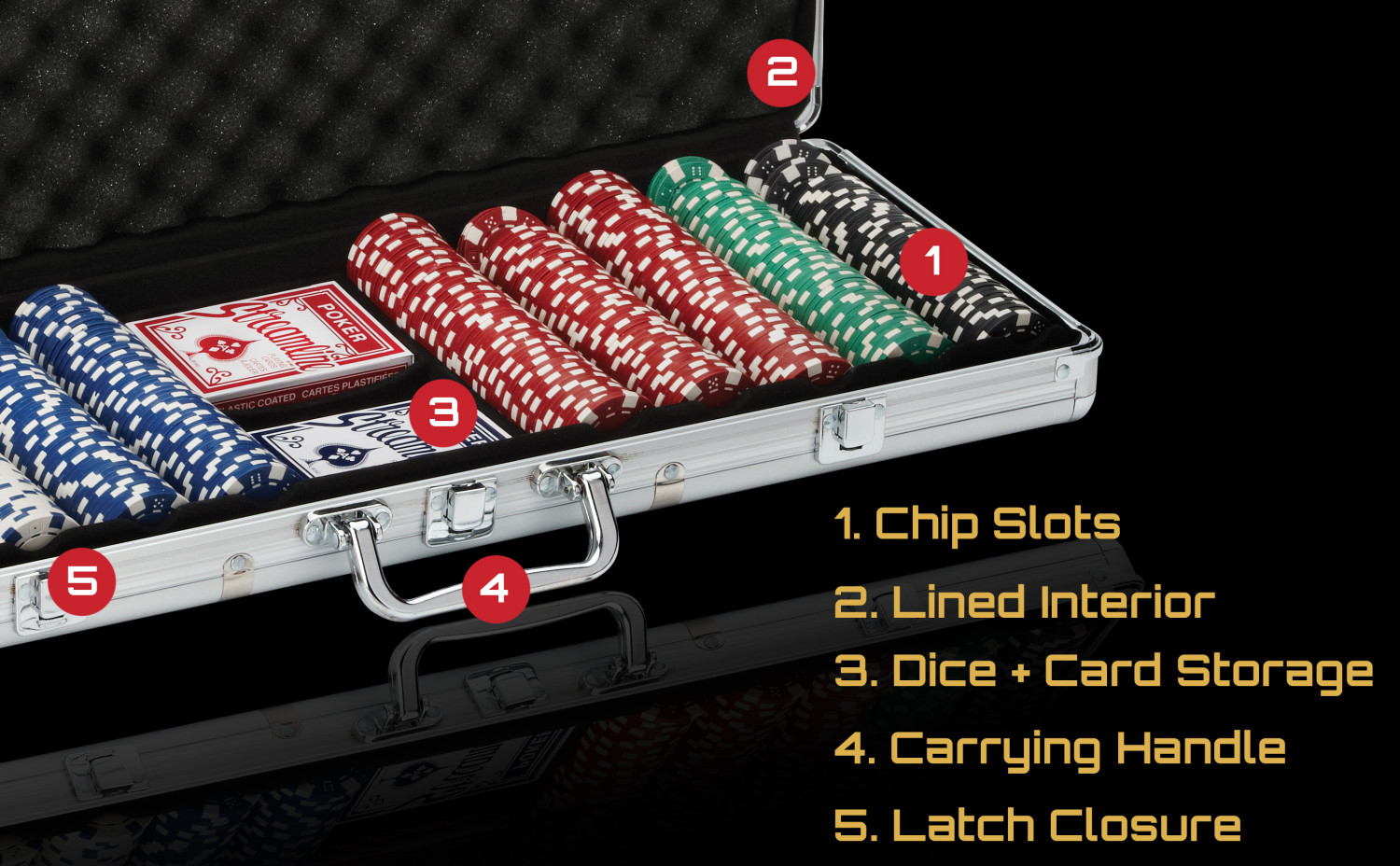 Go all in with the Fat Cat Texas Hold'Em Poker Chip set. This 500 poker chip set comes with everything you need for a night of cards. There are five different colors of striped poker chips for you to play with. Each chip is 11.5 grams for a nice weight that gives them a good feel and prevents them from sliding around. These Claytec chips won't be as fragile as clay chips and they have more weight and durability than plastic chips. This poker chip set comes with an aluminum case, two decks of cards, and a full set of big blind, little blind, and dealer buttons. The perfect set for a night playing Texas Hold'em.
Complete Poker Set - Includes 500 poker chips, two decks of cards, a full set of Texas Hold'Em buttons, and an aluminum carrying case
500 Striped Chip Set - Includes five different colors of 11.5 gram poker chips: 150 red, 50 green, 100 blue, 50 black, and 150 white
Texas Hold'Em Buttons - This set includes a big bling, little blind, and dealer buttons to get the bets going early and make sure the games stay fun
Tough Aluminum Case - Your chips and accessories come packed into a convenient foam-lined aluminum carrying case so you can play anywhere
Fun Games for Everyone - The Texas Hold'Em 500 chip poker set is large enough to make sure friends and family can all join in on the fun
Warranty - 90 days
Product Details
| | |
| --- | --- |
| Length: | 22.25 in |
| Width: | 8.7 in |
| Height: | 2.76 in |
| Weight: | 17.2 lbs |

Download Product Manual
Caution! Choking Hazard: This product includes small objects not suitable for children under 3 years old.
WARNING: This product may expose you to chemicals such as Lead which is known to the state of California to cause Cancer, birth defects and/or other reproductive harm. For more information, please go to P65Warnings.ca.gov
Questions about this warning? Check out our Prop 65 info page.
Shipping
This item Ships to
Delivery
Estimated between and
Our shipping team makes every effort to ship within 1-2 business days. Learn more here.
Fast Shipping

We work hard to ship your order as soon as possible, even orders with free shipping! We ship most orders out the same business day when placed before 1:00 PM Central time. Large game tables typically only take 1-2 business days to ship - one of the fastest ship times in the industry. Free shipping and any shipping estimates apply to US shipments only. Learn more about our shipping policies here.

Quality Guarantee

We stand by the quality of our products. If there's a defect, it breaks, or you've changed your mind, simply contact us and we'll work to make it right.

Manufacturer Direct

By shopping directly from GLD Products, we guarantee you're shopping the largest selection of Viper, Fat Cat, Casemaster, and Mainstreet Classics products found anywhere, on- or off-line. You can rest assured the product you receive is 100% authentic, and if anything goes wrong or you have any questions, our knowledgeable support staff is just an email away.

Secure Checkout

Financial security is essential when buying online. That's why we never store any of your payment information. We don't even see it! All payments are processed directly through Paypal, so your information is private, safe, and secure.
You receive more than you paid for!!!
I think it's a great deal because the chips and the case have a very good quality compared with the price... You don't really need more than that....! It's perfect! 👌👌👌
Great chips. No so great case.
The chips are nice clay heavy quality. The inside portion of the case is not made from thin, felt-covered plastic that is not designed to hold such heavy chips and arrived cracked.
Hi Phoebe, thank you for letting us know about the shipping damage to the case. We apologize for any inconvenience. Someone should be reaching out to you soon about getting a replacement sent to you!
Sincerely,
GLD Products
Amazing Value
Great set! 500 quality chips and 2 good sets of cards. Worth every $.