Viper Vtooth 1000® Online Electronic Dartboard
Order in the next to get it by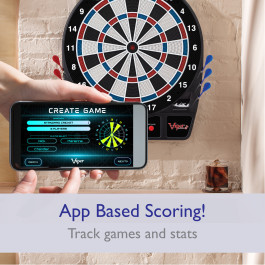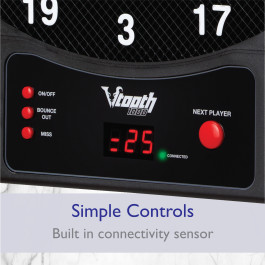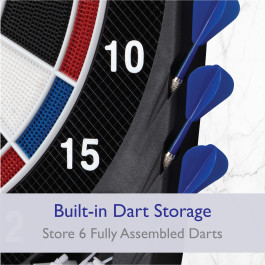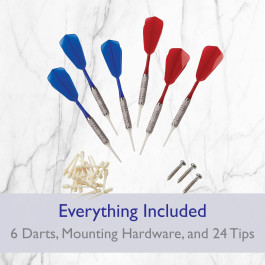 You'll never play darts the same way again with the Vtooth 1000® electronic dartboard, featuring online play!
Using Bluetooth Smart technology, you can connect your dart board wirelessly to a smartphone, tablet, or other device via the Viper Darts Linkup®app. This revolutionary free mobile app will allow you to play online 301 and Cricket with people all around the world. The app also offers 16 offline games with many more to come. Keep track of all your scores with a customized profile that will save your progress and measure your darting stats. Never before have you been able to see both Cricket and '01 so clearly on the same scoreboard. The scoreboard app can utilize a quick play feature to get you playing your favorite games immediately. The Vtooth® has a regulation 15.5" target face, so you can practice on the same size board as the pros. This dartboard features Target Tested Tough™ segments that will stand up to the toughest punishment, in addition to an ultra-thin spider to minimize bounce-outs. Furthermore, precision engineered concave segment holes lock in your shots and help reduce bounce outs. The multiplayer feature supports up to 4 players, so no one is left behind. Embrace the new technological revolution in dartboards with the Viper Vtooth® online electronic dartboard!
Cutting-edge technology in the free Viper Darts Linkup® App brings this dartboard into the online world so you can play opponents all around the world in both 301 and Cricket
Easily connect to your Android or Apple smart device via Bluetooth Smart Technology to play darts online, as well as view and track your scores
Enjoy 16 games currently available as well as new games added with free app upgrades
Unparalleled construction features Tournament Quality Regulation 15.5" Target Face, Concave Segment Holes to reduce bounce outs, and Target Tested Tough™ segments to withstand your toughest throws time after time
Never leave any friends sitting on the sidelines with multiplayer play supporting up to 4 players, each with custom profiles available to track statistics
Powered by four AA batteries for a cord free experience
Includes mounting hardware for quick setup, 6 soft-tip starter darts, and a one year warranty
Product Details
| | |
| --- | --- |
| Length: | 22.4 in |
| Width: | 19.5 in |
| Height: | 1.1 in |
| Weight: | 4.5 lbs |
| Target Face Diameter: | 15.5 inches |
| Warranty: | Limited 1 year |
Download Product Manual
WARNING: This product may expose you to chemicals such as Lead which is known to the state of California to cause Cancer, birth defects and/or other reproductive harm. For more information, please go to P65Warnings.ca.gov
Questions about this warning? Check out our Prop 65 info page.
Shipping
This Item Ships to
Delivery
Estimated between and
Will usually ship within 1-2 business days.
We ship our products right away.
Your order will ship from Muskego, WI. Small parcel shipments typically take 3-5 days to arrive. LTL shipments (most game tables) typically take 5-10 days to arrive. All estimates apply to US shipments only. Free shipping applies to the contiguous United States.

Returns are easy.
Simply contact us for a returns number and send your item back to our warehouse. We'll get you a replacement or refund in a snap!
100% Quality Guarantee
We stand by the quality of our products. If there's a defect, it breaks, or you've changed your mind, simply contact us and we'll work to make it right.

Fast Shipping
We work hard to ship your order from our warehouse as soon as possible, even orders with free shipping! We ship most items out the same business day when placed before 2:00 PM Central time. Larger items like table games typically take only 1-2 business days to ship - one of the fastest ship times in the industry. All estimates apply to US shipments only. Free shipping applies to the contiguous United States. Learn more about our shipping policies here.


Manufacturer Direct
By shopping directly from GLD Products, we guarantee you're shopping the largest selection of Viper, Fat Cat, Casemaster, and Mainstreet Classics products found anywhere, on- or off-line. You can rest assured the product you receive is 100% authentic, and if anything goes wrong or you have any questions, out knowledgeable support staff is just a phone call or email away.

Secure Checkout
Financial security is essential when buying online. That's why we never store any of your payment information. We don't even see it! All payments are processed directly through Paypal, so your information is private, safe, and secure.
Bad App.
The board is great! The app however isnt very good at all. The mpr tracking just flat out doesn't work. Btw mpr tracking was a key selling point for me. Also you can't fix a dart that registers wrong and I have yet to be able to play an online game. If they fix the app and the mpr tracking this would be a 5* product.
Hi Clark, Thank you for your honest review of our Vtooth board. We're working on those updates, as well as many others, to make the app more functional and user friendly!
Online Deadzone & No way to play with local friends - Purchased April 2020
The dart board functions relatively well with the app on my iPad. The app is very basic but it is easy to use. Connectivity via blue tooth has its challenges at times requiring me to turn on and off the dart board before it will link. The Miss and Bounce out buttons on the actual board itself are wired backwards and the miss calls out bounce out .. bounce out reads as missed. It's likely not worth the hassle to replace it since it function through the app normally.
The online game play is few and far between. It would be great to see how many people are currently online. The online game lobby is always empty for both cricket and 301. It would be nice if you could have a friends list or recent player list so you can play with your friends... My friend was about to buy this board until he found out there's no way to actually find each other online, or even type in my game lobby name if I were hosting the match. There was only one time when I created a game once someone by chance joined it and I was able to test it out online play... Thanks for the match "Bub"! Other than that one game I haven't seen anyone online since. This is the biggest let down for me because this was the primary reason for buying this board.
The darts do stick very well, I have very little bounce outs. The darts provided are fairly cheap but I suppose that's to be expected given the price. I really like the white, red, blue and black color scheme.
Lots of room for improvement... Hoping more updates.
Hi Mike, Thank you for taking the time to leave a review and suggest areas of improvement. We are working on new features for the app to make it easier to connect to players online. And since the online play function is fairly new to the app, we are still building our player base, so we thank you for your patience! There is a Facebook group out there for players to connect with each other:
https://www.facebook.com/groups/234411031079808/
. It should make it easier to play online for the time being!
Amazing Board!!
I bought mine a year ago. I still play it every chance I get. I am in a dart league and my partner and I practice on mine. It still functions like new. I wish it played a few more games. Right now it is 301,501,701,901, 3 different cricket modes and a couple of medleys. You can play up to at least 4 player and 2 2-person teams.