Free Shipping

When you spend $50 and more

Quality Guarantee

Your happiness is our priority

Manufacturer Direct

Shop direct

Secure Checkout

Always private, safe, and secure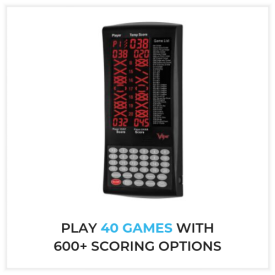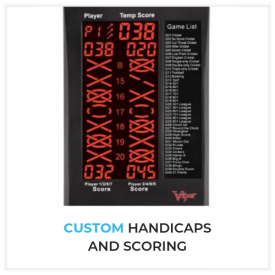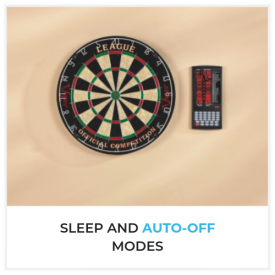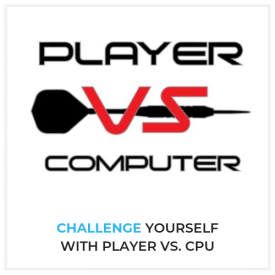 Experience sisal dartboard games like never before with the Viper ProScore from the leading innovator in digital dartboard scoring! If you tire of keeping score by hand in your cricket and 01 games, look no further than the Viper ProScore. Bring the convenience of automatic scoring to steel tip darts. The backlit LCD scoreboard allows you to see scores from the throw line easily. This scoreboard comes preprogrammed with 40 games and over 600 options - you'll never run out of new options and games to play. Popular options included are: single in/out, double in/out and master out for 01 games. A handicap feature levels the playing field, so pros and beginners can play together competitively. The Viper ProScore supports up to 8 player multiplayer; no one will have to sit on the sidelines. If you need some practice on your own, you can play against computer opponents as well. The ProScore can be powered by an adapter or three AA batteries for a cord-free experience (batteries and adapter not included). Also included is the mounting hardware you'll need for a quick and easy installation next to your dartboard.
Finally add the most convenient innovation of electronic dartboards to your sisal dartboard experience, without giving up the classic tradition!
With 40 games and 655 options you'll find all of your time-honored favorites, and new experiences as well.
Colossal LCD scoreboard is backlit with sharp red light for higher visibility from the throw line.
A custom handicap options allows you to even out the playing field between pros and novices.
Supports up to 8 player multiplayer. Including computer opponents.
Includes easy to use mounting hardware for quick installation.
Warranty - Limited 1 Year
Product Details
| | |
| --- | --- |
| Length: | 10.0 in |
| Width: | 4.75 in |
| Height: | 0.9 in |
| Weight: | 0.7 lbs |
Download Product Manual
WARNING: This product may expose you to chemicals such as Lead which is known to the state of California to cause Cancer, birth defects and/or other reproductive harm. For more information, please go to P65Warnings.ca.gov
Questions about this warning? Check out our Prop 65 info page.
Shipping
This item Ships to
Delivery
Estimated between and
Our shipping team makes every effort to ship within 1-2 business days. Learn more here.
Fast Shipping

We work hard to ship your order as soon as possible, even orders with free shipping! We ship most orders out the same business day when placed before 1:00 PM Central time. Large game tables typically only take 1-2 business days to ship - one of the fastest ship times in the industry. Free shipping and any shipping estimates apply to US shipments only. Learn more about our shipping policies here.

Quality Guarantee

We stand by the quality of our products. If there's a defect, it breaks, or you've changed your mind, simply contact us and we'll work to make it right.

Manufacturer Direct

By shopping directly from GLD Products, we guarantee you're shopping the largest selection of Viper, Fat Cat, Casemaster, and Mainstreet Classics products found anywhere, on- or off-line. You can rest assured the product you receive is 100% authentic, and if anything goes wrong or you have any questions, our knowledgeable support staff is just an email away.

Secure Checkout

Financial security is essential when buying online. That's why we never store any of your payment information. We don't even see it! All payments are processed directly through Paypal, so your information is private, safe, and secure.
Viper ProScore Electronic Dart Scorer
Viper ProScore Electronic Dart Scorer
Great way to practice or play against friends. I use mine almost everyday. I shout against the computer which has five levels. The power pack (sold separately) is a good addition.
Electronic Scorer
Use mine all the time. No issues. Really like it, since it is just me playing
Works great and seeing the averages per match is great
I use this to play against myself and work on being a better player
Viper Proscore
Works well , nice mounting system. Easy to Learn. Good price would by again.