Free Shipping

When you spend $50 and more

Quality Guarantee

Your happiness is our priority

Manufacturer Direct

Shop direct

Secure Checkout

Always private, safe, and secure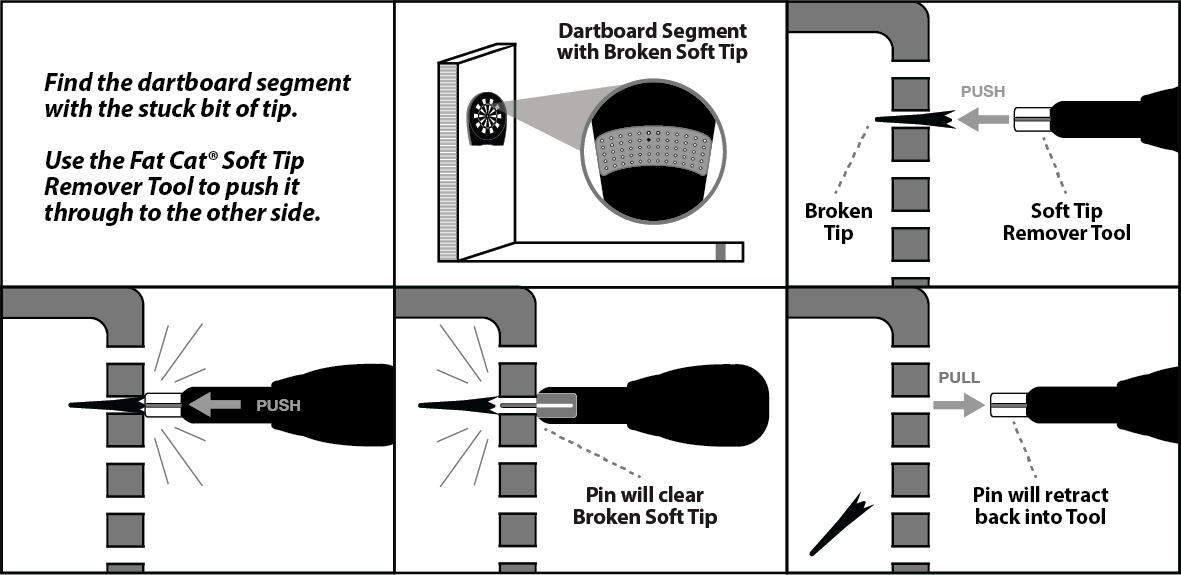 Product Description
Don't let a broken tip ruin your cherished dartboard. When a tip breaks inside a board it can be nearly impossible to remove, rendering that section useless. However the Fat Cat Tip Remover allows you to save your electronic dartboard and allow it to live another day. This easy to use tool is able to push the broken piece through the back of the boards and allowing you to extend the life of your board.
Unique design pushes the broken pieces through the board
Avoid creating dead zones on your board, and prevent bounce outs
Sleek black color matches dart cases and wallets.
Product Details
| | |
| --- | --- |
| Length: | 3.6 in |
| Width: | 1.1 in |
| Height: | 1.1 in |
| Weight: | 0.04 lbs |
Caution! Choking Hazard: This product includes small objects not suitable for children under 3 years old.
Shipping
This item Ships to
Delivery
Estimated between and
Our shipping team makes every effort to ship within 1-2 business days. Learn more here.
Fast Shipping

We work hard to ship your order as soon as possible, even orders with free shipping! We ship most orders out the same business day when placed before 1:00 PM Central time. Large game tables typically only take 1-2 business days to ship - one of the fastest ship times in the industry. Free shipping and any shipping estimates apply to US shipments only. Learn more about our shipping policies here.

Quality Guarantee

We stand by the quality of our products. If there's a defect, it breaks, or you've changed your mind, simply contact us and we'll work to make it right.

Manufacturer Direct

By shopping directly from GLD Products, we guarantee you're shopping the largest selection of Viper, Fat Cat, Casemaster, and Mainstreet Classics products found anywhere, on- or off-line. You can rest assured the product you receive is 100% authentic, and if anything goes wrong or you have any questions, our knowledgeable support staff is just an email away.

Secure Checkout

Financial security is essential when buying online. That's why we never store any of your payment information. We don't even see it! All payments are processed directly through Paypal, so your information is private, safe, and secure.
Very useful! Especially with children using the board!
So far, I've been very impressed with the Fat Cat Broken Soft Tip Remover. With younger children often playing our dart board, we are susceptible to a lot of broken tips. The remover works very well. If I had one small criticism, it would be that the tool is a little hard to use in the holes that are along the edges of the spider dividers. The tool is a little too large so you have to put it in at a slight angle, but it still does its job. Just may take a couple of attempts. Overall, I've been very impressed with this product!