Free Shipping

When you spend $50 and more

Quality Guarantee

Your happiness is our priority

Manufacturer Direct

Shop direct

Secure Checkout

Always private, safe, and secure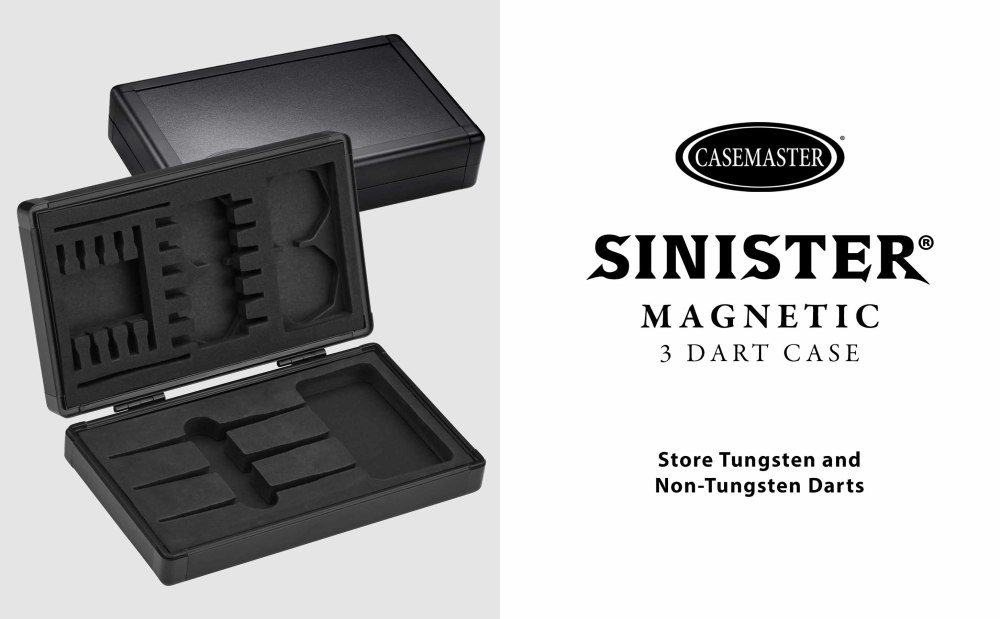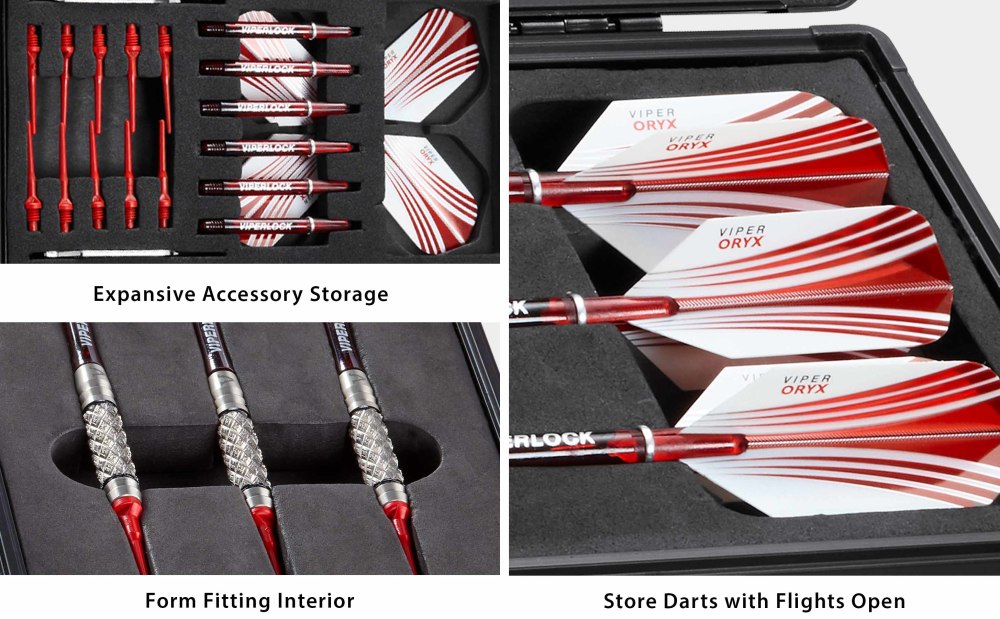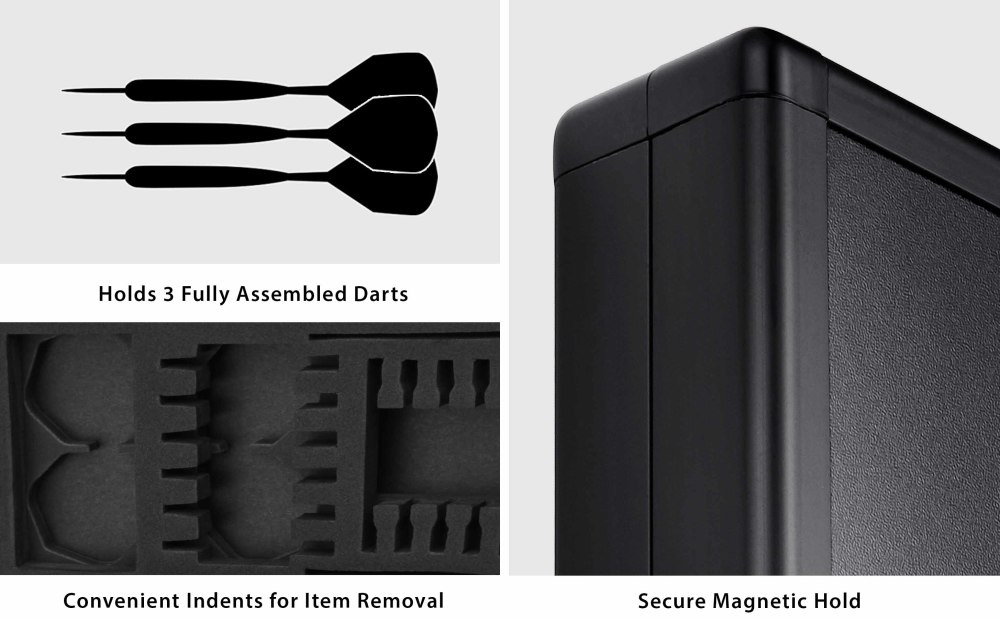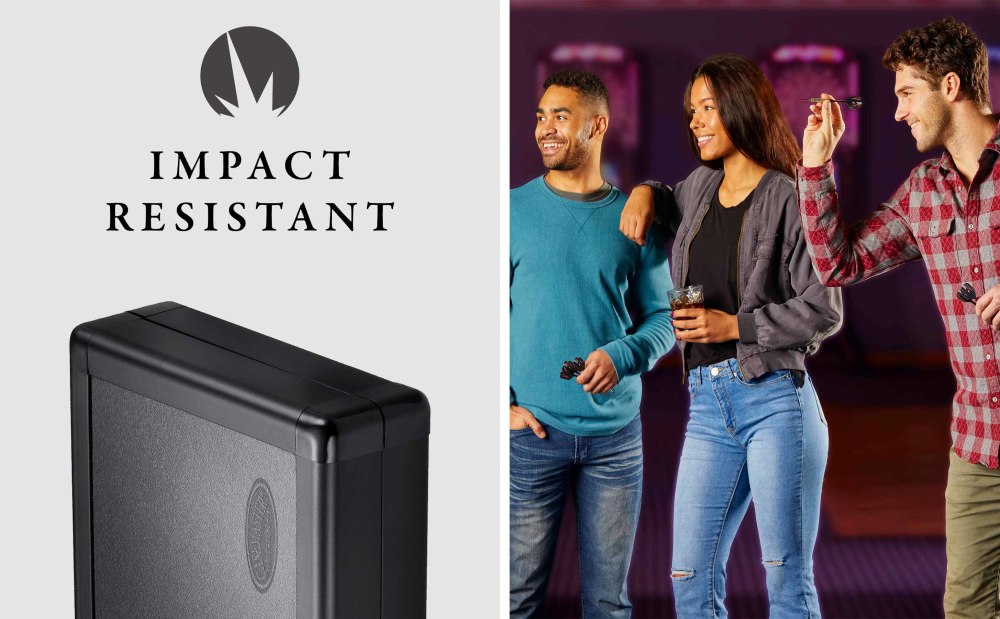 The Sinister magnetic dart case is the prime solution to dart storage! A tough aluminum-reinforced composite shell stands up to heavy usage and shields against heavy impacts to keep darts safe. The Sinister has hard EVA molded foam specially crafted to tightly hold darts and plethora of accessories, with form-fitting accuracy. The Sinister Dart Case is secured with a strong magnetic strip that holds closed even upon impact, keeping your darts and accessories safe. The Sinister is designed with style in mind, with its low profile branding and stealthy matte black finish. The Sinister fits three complete darts and a wide range of accessories.
PROTECTION - Safeguard your darts from damage with a highly durable aluminum-reinforced case.
HOLD THREE DARTS - Extra wide profile holds up to three darts in hard foam slots, without crushing flights.
SECURE HOLD - The magnetic locking mechanism holds tightly closed and has no pieces to break and easy to access
STYLISH PROFILE - The sleek low profile design make it easy to carry and gives the case a trendy look.
DEFENDED GRIP - Hard EVA foam holds your darts and accessories securely in place
EXPANSIVE INVENTORY - Fits a myriad of dart parts to be prepared to throw all night long
Warranty - Limited 90 Day
Product Details
| | |
| --- | --- |
| Length: | 6.75 in |
| Width: | 4.0 in |
| Height: | 1.4 in |
| Weight: | 0.75 lbs |
WARNING: This product may expose you to chemicals such as DEHP & DINP which is known to the state of California to cause Cancer, birth defects and/or other reproductive harm. For more information, please go to P65Warnings.ca.gov
Questions about this warning? Check out our Prop 65 info page.
Shipping
This item Ships to
Delivery
Estimated between and
Our shipping team makes every effort to ship within 1-2 business days. Learn more here.
Fast Shipping

We work hard to ship your order as soon as possible, even orders with free shipping! We ship most orders out the same business day when placed before 1:00 PM Central time. Large game tables typically only take 1-2 business days to ship - one of the fastest ship times in the industry. Free shipping and any shipping estimates apply to US shipments only. Learn more about our shipping policies here.

Quality Guarantee

We stand by the quality of our products. If there's a defect, it breaks, or you've changed your mind, simply contact us and we'll work to make it right.

Manufacturer Direct

By shopping directly from GLD Products, we guarantee you're shopping the largest selection of Viper, Fat Cat, Casemaster, and Mainstreet Classics products found anywhere, on- or off-line. You can rest assured the product you receive is 100% authentic, and if anything goes wrong or you have any questions, our knowledgeable support staff is just an email away.

Secure Checkout

Financial security is essential when buying online. That's why we never store any of your payment information. We don't even see it! All payments are processed directly through Paypal, so your information is private, safe, and secure.