Free Shipping

When you spend $50 and more

Quality Guarantee

Your happiness is our priority

Manufacturer Direct

Shop direct

Secure Checkout

Always private, safe, and secure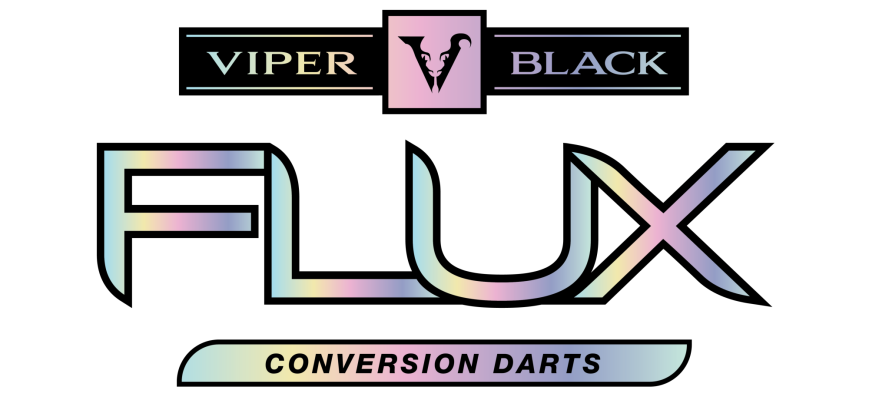 The exclusive Viper Black Flux 90% Tungsten Conversion Dart Set comes with a set of steel tip converter points and soft tips, which allows this set of darts to be used on both sisal and electronic dartboards. The high quality 90% Tungsten barrels are perfect for anyone looking for a professional dart set, capable of tight groupings for higher scores. Each set of Flux conversion darts will come with a set of converter points, soft dart tips, three barrels, a set of standard dart flights, a set of slim dart flights, o-rings, and Viperlock Aluminum Shade Shafts.
Conversion darts come with a set of converter steel tips, and soft tips, making them usable with both sisal and electronic dartboards
90% Tungsten Barrels have a slim profile for tight shot groupings
Standard and slim flights allow you to customize your darts to fit your throw
Includes three darts, converter points, soft tips, o-rings, and a total of six flights in both slim and standard sizes
Warranty: Lifetime Barrel Guarantee
| | |
| --- | --- |
| Dart Barrel Material: | Tungsten |
| Dart Barrel Length: | 43.03 mm |
| Dart Barrel Min Diameter: | 6.12 mm |
| Dart Barrel Max Diameter: | 6.72 mm |
| Dart Shaft Material: | Aluminum |
Caution! Choking Hazard: This product includes small objects not suitable for children under 3 years old.
Shipping
This item Ships to
Delivery
Estimated between and
Our shipping team makes every effort to ship within 1-2 business days. Learn more here.
Fast Shipping

We work hard to ship your order as soon as possible, even orders with free shipping! We ship most orders out the same business day when placed before 1:00 PM Central time. Large game tables typically only take 1-2 business days to ship - one of the fastest ship times in the industry. Free shipping and any shipping estimates apply to US shipments only. Learn more about our shipping policies here.

Quality Guarantee

We stand by the quality of our products. If there's a defect, it breaks, or you've changed your mind, simply contact us and we'll work to make it right.

Manufacturer Direct

By shopping directly from GLD Products, we guarantee you're shopping the largest selection of Viper, Fat Cat, Casemaster, and Mainstreet Classics products found anywhere, on- or off-line. You can rest assured the product you receive is 100% authentic, and if anything goes wrong or you have any questions, our knowledgeable support staff is just an email away.

Secure Checkout

Financial security is essential when buying online. That's why we never store any of your payment information. We don't even see it! All payments are processed directly through Paypal, so your information is private, safe, and secure.