Viper Wizard Blue/Black Soft Tip Darts 18 Grams
Order in the next to get it by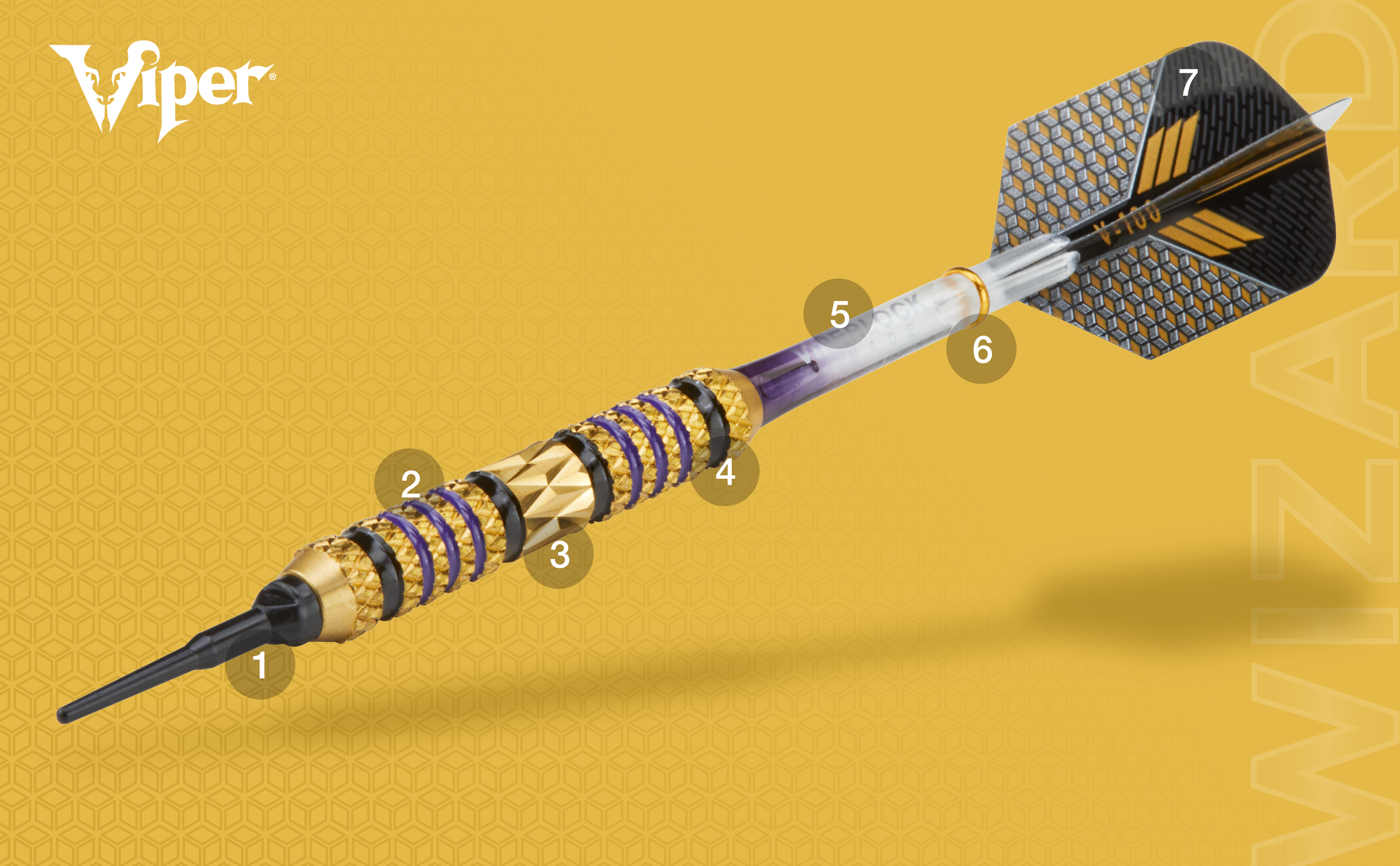 Features that Win Games
1. 2BA Tufflex Tips - Extremely strong and durable, featuring a reinforced cone that's made to withstand the force of a 20 gram dart
2. Barrel Rings - 10 Wide and slim rings add traction to the entire barrel to optimize grip
3. Large Diamond Cut Center Point - A spacious band of Diamond Cut Knurling has been added as a center gripping point
4. 11 Knurled Bands - Maximize your grip using the 11 knurled bands on this impressive barrel
5. Viperlock Shade Shaft - Durable Polycarbonate Material resists breaking and snapping for a more dependable shaft
6. Golden Stem Ring - Aluminum Viperlock ring locks flights into place to prevent pop-offs and lost flights
7. High Speed Slim Flights - The slim profile allows airflow to glide around each point using reduced surface area for enhanced speed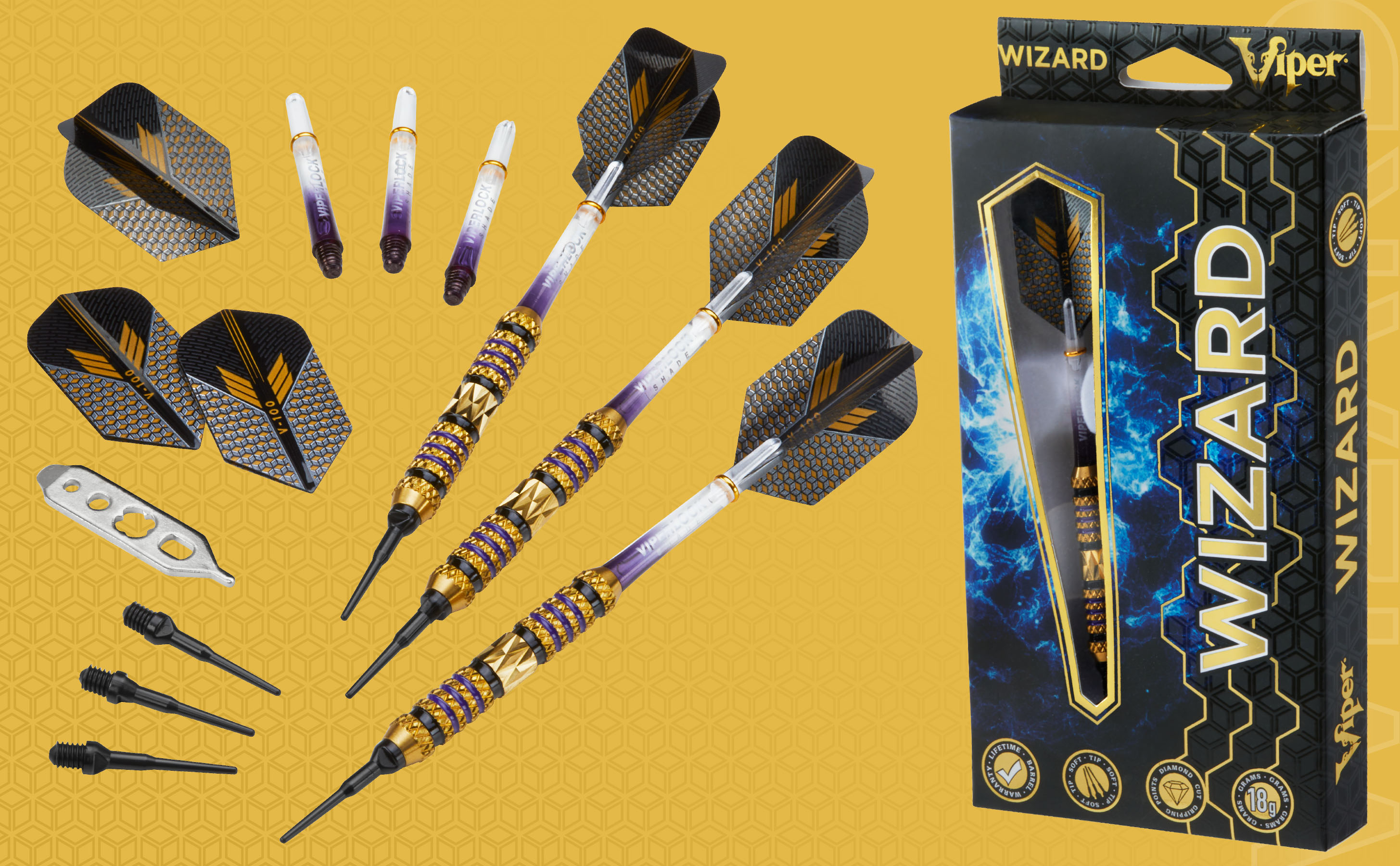 Everything Included
6 High Speed Slim Flights 6 Viperlock Shade Shafts 6 Golden Stem Rings 6 2BA Tufflex Tips 3 Diamond Cut Knurled Barrels 1 Dart Wrench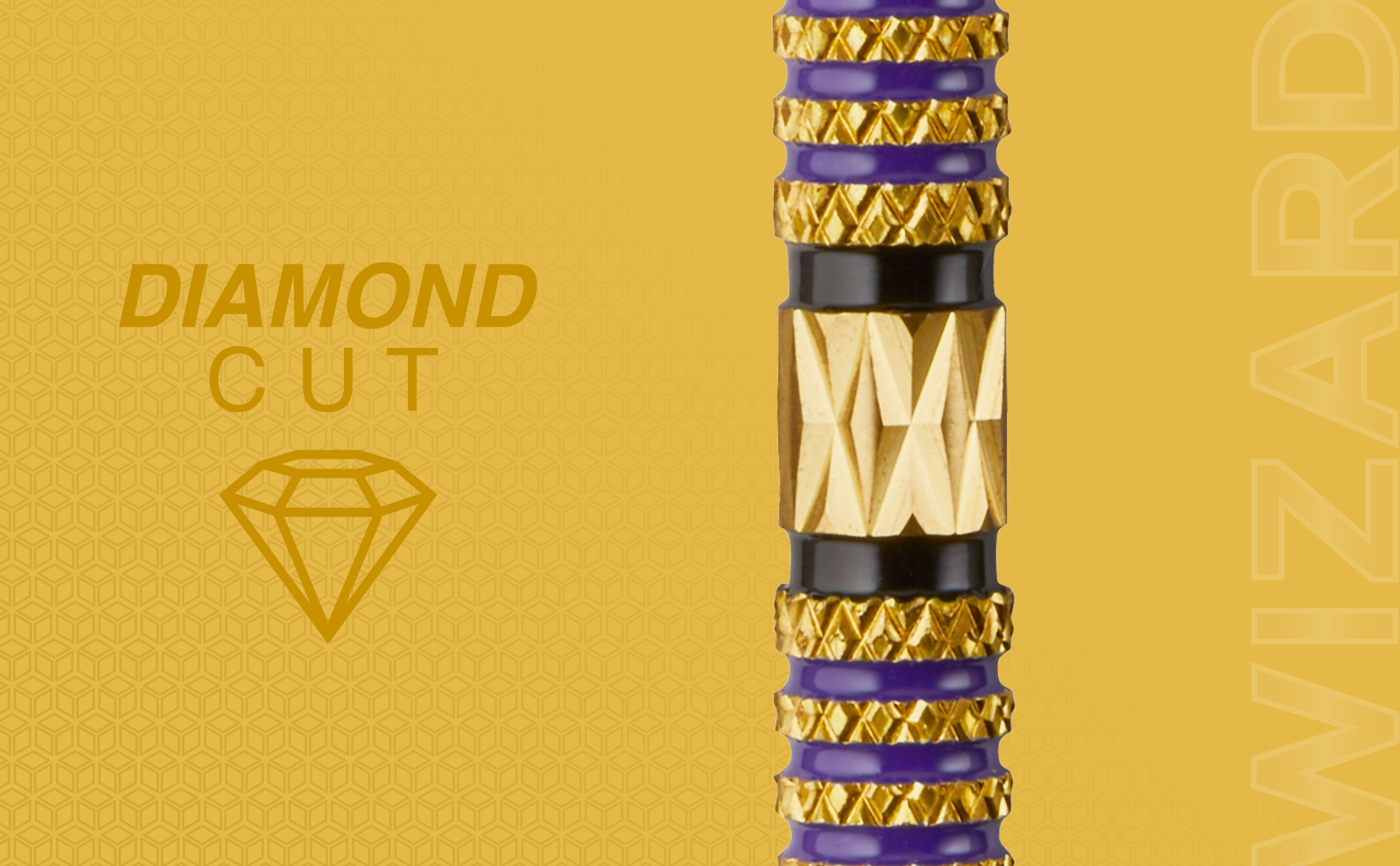 Diamond Cut Knurled Gripping Bands
11 Bands of spacious knurling comprise a majority of this dart's grip. The secret is in the center gripping point which is the size of multiple bands. It provides both stability and traction when preparing to throw.


Mystify and amaze your opponents with dazzling spells and the Viper Wizard Soft Tip Darts, designed for use with either electronic dart boards or most sisal dart boards. These darts are packed with features starting with the barrel, fashioned from brass alloy featuring diamond cut etchings. Constructing the darts in this fashion allows us to bring you tough, weighted barrels without breaking the bank. Brass is an alloy that has been used in construction for its durability and great looking style, while maintaining a lower cost. We use this alloy to provide the highest quality barrels at the best costs to you. Each barrel enjoys hand painted rings, heavily knurled bands and diamond cut etchings, allowing your grip to remain consistent throw after throw. The Wizard Darts feature tough, lightweight Viperlock Shafts. These shafts feature Viperlock rings that allow a more secure fit to your flight. Finally, each dart is finished off with spectacular Wizard graphics adorning each flight, for an out-of-this-world look. Each set includes three extra flights, three extra Viperlock shafts, three 2BA Tufflex II Tips, and a dart mechanic repair tool.
Specially coated alloy barrels provide best bang for the buck with high strength and smooth styling.
Knurled barrel with diamond-cut etchings provides an excellent and consistent grip throw after throw.
Viperlock Shafts feature stem rings, making them the most secure way to fasten flights tightly and improve stability.
Hand painted rings lend a bright, bold splash of color while enhancing grip on every shot.
Includes three extra flights, three extra Viperlock shafts, three 2BA Tufflex II Tips, and a dart mechanic repair tool.
Warranty: Lifetime Barrel Guarantee
Product Details
| | |
| --- | --- |
| Length: | 5.6 in |
| Dart Barrel Material: | Alloy |
| Dart Barrel Length: | 1.935 in |
| Dart Barrel Min Diameter: | 0.192 in |
| Dart Barrel Max Diameter: | 0.326 in |
| Dart Shaft Length: | 1.689 in |
| Dart Tip Length: | 1.199 in |
Caution! Choking Hazard: This product includes small objects not suitable for children under 3 years old.
WARNING: This product may expose you to chemicals such as Lead which is known to the state of California to cause Cancer, birth defects and/or other reproductive harm. For more information, please go to P65Warnings.ca.gov
Questions about this warning? Check out our Prop 65 info page.
Shipping
This Item Ships to
Delivery
Estimated between and
Will usually ship within 1-2 business days.
We ship our products right away.
Your order will ship from Muskego, WI. Small parcel shipments typically take 3-5 days to arrive. LTL shipments (most game tables) typically take 5-10 days to arrive. All estimates apply to US shipments only. Free shipping applies to the contiguous United States.

Returns are easy.
Simply contact us for a returns number and send your item back to our warehouse. We'll get you a replacement or refund in a snap!
100% Quality Guarantee
We stand by the quality of our products. If there's a defect, it breaks, you've changed your mind simply send it back to us and we'll cheerfully issue a refund (re-stocking fees may apply on certain items).

Fast Shipping
We work hard to ship your order from our warehouse as soon as possible, even orders with free shipping! We ship most items out the same business day when placed before 2:30 PM Central time. Larger items like table games typically take only 1-2 business days to ship - one of the lowest ship times in our industry. All estimates apply to US shipments only. Free shipping applies to the contiguous United States.


Manufacturer Direct
By shopping directly from GLD Products, we guarantee you're shopping the largest selection of Viper, Fat Cat, Casemaster, and Mainstreet Classics products found anywhere, on- or off-line. You can rest assured the product you receive is 100% authentic, and if anything goes wrong or you have any questions, out knowledgeable support staff is just a phone call away.

Secure Checkout
Financial security is essential when buying online. That's why we never store any of your payment information. We don't even see it! All payments are processed directly through Paypal, so you information is private, safe, and secure.