[REFURBISHED] Viper 850 Electronic Dartboard
Order in the next to get it by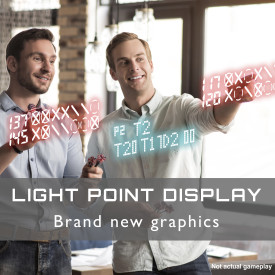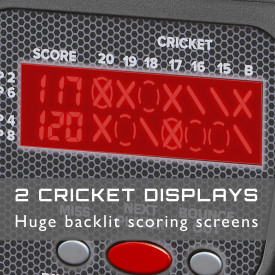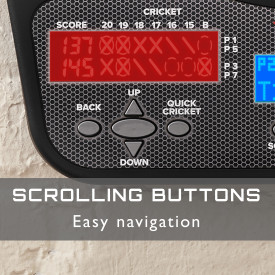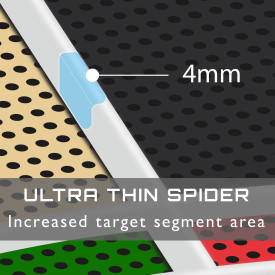 The advanced Viper 850 Electronic Dartboard provides the next level in dart gaming.
Headlined by the ultra bright triple score display, the 850 provides the best scoring experience yet. Enhanced definition on the central display allows for better scoring graphics than ever before seen, while the traditional double cricket display utilizes the best brightest LED in the industry for high visibility. The options are numerous with 50 games pre-programmed into the board and over 470 scoring variations.
The 850 features an expertly constructed 15.5" target face for heavy use and high scores. Featuring Target-Tested-Tough segments made from High Grade Nylon, the 850 endures the toughest throws! Each segment features locking holes and is connected by ultra-thin spider to minimize bounce outs and maximize scores. The 850 includes six soft tip darts to get you throwing right away and a throw line measuring tape to ensure your games are from the right distance.
Ultra bright display - Advanced technology gives the scoreboard display extra clarity and enhanced graphics
Top quality segments - Durable Target-Tested-Tough segments stand up to heavy use and feature locking holes to reduce bounce-outs
50 Awesome games - The options are vast with tons of classic favorites and new innovations, over 450 variations
Enhanced scoring experience - Ultra-thin spider and extended catch ring provide key improvements to increase scoring and guide darts into the board
Included accessories - Six starter darts get you into the game sooner and a throwline measuring tape ensures that you're at regulation distance
Product Details
| | |
| --- | --- |
| Length: | 24.25 in |
| Width: | 19.5 in |
| Height: | 1.15 in |
| Weight: | 5.0 lbs |
| Target Face Diameter: | 15.5 inches |
| Warranty: | GLD Products Refurbished Guarantee |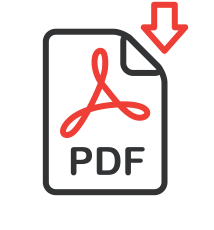 Download Product Manual
WARNING: This product may expose you to chemicals such as Lead which is known to the state of California to cause Cancer, birth defects and/or other reproductive harm. For more information, please go to P65Warnings.ca.gov
Shipping
This Item Ships to
Delivery
Estimated between and
Will usually ship within 1-2 business days.
We ship our products right away.
Your order will ship from Muskego, WI. Small parcel shipments typically take 3-5 days to arrive. LTL shipments (most game tables) typically take 5-10 days to arrive. All estimates apply to US shipments only. Free shipping applies to the contiguous United States.

Returns are easy.
Simply contact us for a returns number and send your item back to our warehouse. We'll get you a replacement or refund in a snap!
100% Quality Guarantee
We stand by the quality of our products. If there's a defect, it breaks, or you've changed your mind, simply contact us and we'll work to make it right.

Fast Shipping
We work hard to ship your order from our warehouse as soon as possible, even orders with free shipping! We ship most items out the same business day when placed before 2:00 PM Central time. Larger items like table games typically take only 1-2 business days to ship - one of the fastest ship times in the industry. All estimates apply to US shipments only. Free shipping applies to the contiguous United States. Learn more about our shipping policies here.


Manufacturer Direct
By shopping directly from GLD Products, we guarantee you're shopping the largest selection of Viper, Fat Cat, Casemaster, and Mainstreet Classics products found anywhere, on- or off-line. You can rest assured the product you receive is 100% authentic, and if anything goes wrong or you have any questions, out knowledgeable support staff is just a phone call or email away.

Secure Checkout
Financial security is essential when buying online. That's why we never store any of your payment information. We don't even see it! All payments are processed directly through Paypal, so your information is private, safe, and secure.
A good board, even it's not perfect
Compared to many of the other "offline" soft tip boards I considered, this dart board offers a slightly more modern interface and more feature-rich experience, even if it's not perfect.
The center display shows menus with actual game names, options, and descriptions instead of just a cryptic "game number" you have to look up in a manual on many other home boards. It tries to calculate your PPD and MPR (for '01 and cricket games, respectively), and when there are more than two players, it allows the remaining players to continue the game even after the first player has won. They even went the extra mile to allow the board to detect whether your dart hit the inner or outer single segment, although it only really matters in a handful of scenarios. There are plenty of games and options, and some of the sound effects are actually pretty satisfying. Bounce-outs have been fairly minimal, and I can't say that I've noticed the board register the wrong segment for a hit.
However, there are a few places lacking a bit of fit and polish. For example, there is a software bug where the PPR and MPR are only calculated for the winner of a game. You can try to view the PPR or MPR for the loser, but it will always show "0". This can be a bit frustrating, since there's no guarantee you'll get to see your PPD or MPR at the end of a game.
On the hardware side, the fit of the segments is more loose than I was expecting compared to other boards I've used, and you can see small gaps between the segment pieces and the spider along some of the edges and in the corners. The center bullseye seems to be the worst one, and tilts outwards a surprising amount from the weight of a dart stuck in it.
We'll see how it holds up over time, and it doesn't have everything I was looking for in a dart board, but compared to everything else I've been able to find on the market today, this board comes the closest.
Unrelated to this specific board, Viper's customer support was very friendly and responsive. They went out of their way to investigate the issue I had with PPR and MPR, and even though it took them a few days to come up with an answer, it was around the holidays and they checked in every few days to let me know they were still looking into it. I didn't get the answer I was hoping for, but I was very satisfied with how it was handled.
Hi Adam,
Thank you for taking the time to leave a review on our 850 dartboard. We're happy to hear you had a good experience with our support, and that you enjoyed a few aspects of the board.
We value customer feedback and have sent yours to our developers. They confirmed that the PPR and MPR is not calculated for the loser of the game. It is calculated for the winner and any other players. We can see how this would cause issues when playing against the computer.
As far as the segments go, the segment material is the strongest we offer for our dartboards and it should hold up well over time, however it is an at-home recreational board and not a commercial board, so it will not be as durable as a commercial board. The segments are designed to be slightly loose fitting due to the nature of darts coming at the dartboard from varying angles. The looseness allows the segments to react to diverse angles instead of causing bounce-outs.
Thank you again for your feedback. It helps us continue to improve our dartboards.
Regards,
GLD Products
Great board!
This board rocks! Hardly any bounce outs (usually from a bent tip easily corrected), sticks incredibly well, just like playing the arcade versions at home! Scoring has never been wrong on a throw. Can't believe I ever put up with the cheaper boards before and thought that those headaches were normal behavior for soft darts... You can't tell the difference with a board like this, but be sure to buy some decent darts to go with it because the included ones are very basic beginners darts and be sure to use their superior tips (and why not because they are made for the board and not very expensive - $6 for 100). I can't say enough good things about this beautiful full size board! Only con would be not putting thicker plexiglass over the scoring electronics, but I'm going to mod that easily and cheaply with a few plexiglass strips on my own. I have kids, which is why I got the soft darts for my game room, and they're more prone to errant throws...
BRAVO, VIPER! And what an unbelievable price on the refurbished - Thanks!