[REFURBISHED] Viper Dart Laser Throw Line
Order in the next to get it by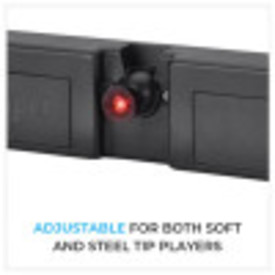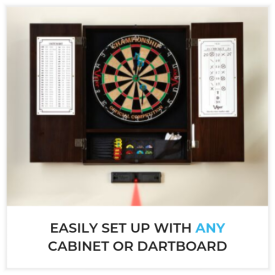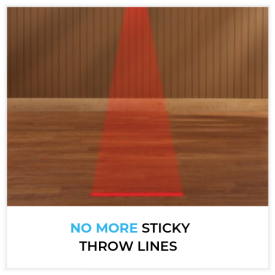 The latest high tech innovation in dart throw lines is here with the Viper Laser Dart Throw Line!
Never worry about sticking throw lines down to your beautiful floors again as the Laser Throw Line projects a concentrated beam of light to indicate where you should be standing. The adjustable laser light allows you to place the line at any height, and you can project it to any distance, perfect for players of both steel tip and soft tip darts. The Viper Laser Throw Line mounts quickly and easily to any wall your dart board sits on with included mounting hardware. The throw line operates on four AA batteries for a great cord free look. Sticky throw lines are a thing of the past with the Viper Laser Dart Throw Line!
A high tech way to mark your dart throw line
Adjustable line perfect for both soft and steel tip players
Stays securely in place during game play
Mounts quickly and easily to the wall
Powered by four AA batteries for a cord free experience
Product Details
| | |
| --- | --- |
| Length: | 10.0 in |
| Width: | 2.5 in |
| Height: | 1.0 in |
| Weight: | 0.3 lbs |
| Warranty: | GLD Products Refurbished Guarantee |
Caution! Choking Hazard: This product includes small objects not suitable for children under 3 years old.
WARNING: This product may expose you to chemicals such as Lead which is known to the state of California to cause Cancer, birth defects and/or other reproductive harm. For more information, please go to P65Warnings.ca.gov
Shipping
This Item Ships to
Delivery
Estimated between and
Will usually ship within 1-2 business days.
We ship our products right away.
Your order will ship from Muskego, WI. Small parcel shipments typically take 3-5 days to arrive. LTL shipments (most game tables) typically take 5-10 days to arrive. All estimates apply to US shipments only. Free shipping applies to the contiguous United States.

Returns are easy.
Simply contact us for a returns number and send your item back to our warehouse. We'll get you a replacement or refund in a snap!
100% Quality Guarantee
We stand by the quality of our products. If there's a defect, it breaks, or you've changed your mind, simply contact us and we'll work to make it right.

Fast Shipping
We work hard to ship your order from our warehouse as soon as possible, even orders with free shipping! We ship most items out the same business day when placed before 2:00 PM Central time. Larger items like table games typically take only 1-2 business days to ship - one of the fastest ship times in the industry. All estimates apply to US shipments only. Free shipping applies to the contiguous United States. Learn more about our shipping policies here.


Manufacturer Direct
By shopping directly from GLD Products, we guarantee you're shopping the largest selection of Viper, Fat Cat, Casemaster, and Mainstreet Classics products found anywhere, on- or off-line. You can rest assured the product you receive is 100% authentic, and if anything goes wrong or you have any questions, out knowledgeable support staff is just a phone call or email away.

Secure Checkout
Financial security is essential when buying online. That's why we never store any of your payment information. We don't even see it! All payments are processed directly through Paypal, so your information is private, safe, and secure.
So far, it's excellent, easy-peasy install, very visible, low profile, easily adjustable!
The first unit I got was DOA, so not pleased with that. But I emailed cust. support and they had a new one sent out and I received that in 3 days or so. That one works just fine. I've had it for <= 2 weeks so time will tell how well it continues to work 1, 2, 5 years from now. But so far, I can say that installing it was easy, it is nice and low profile so odds of bumping into it when walking by are very slim, the line is easily adjustable and stays where you put it and the line is nice and visible on the floor. I find it much easier to see where the oche is, compared to tape or a store-bought stick-on throw line. So overall: Excellent!
Great customer service
Good company , fast shipping , stands behind their products