Free Shipping

When you spend $50 and more

Quality Guarantee

Your happiness is our priority

Manufacturer Direct

Shop direct

Secure Checkout

Always private, safe, and secure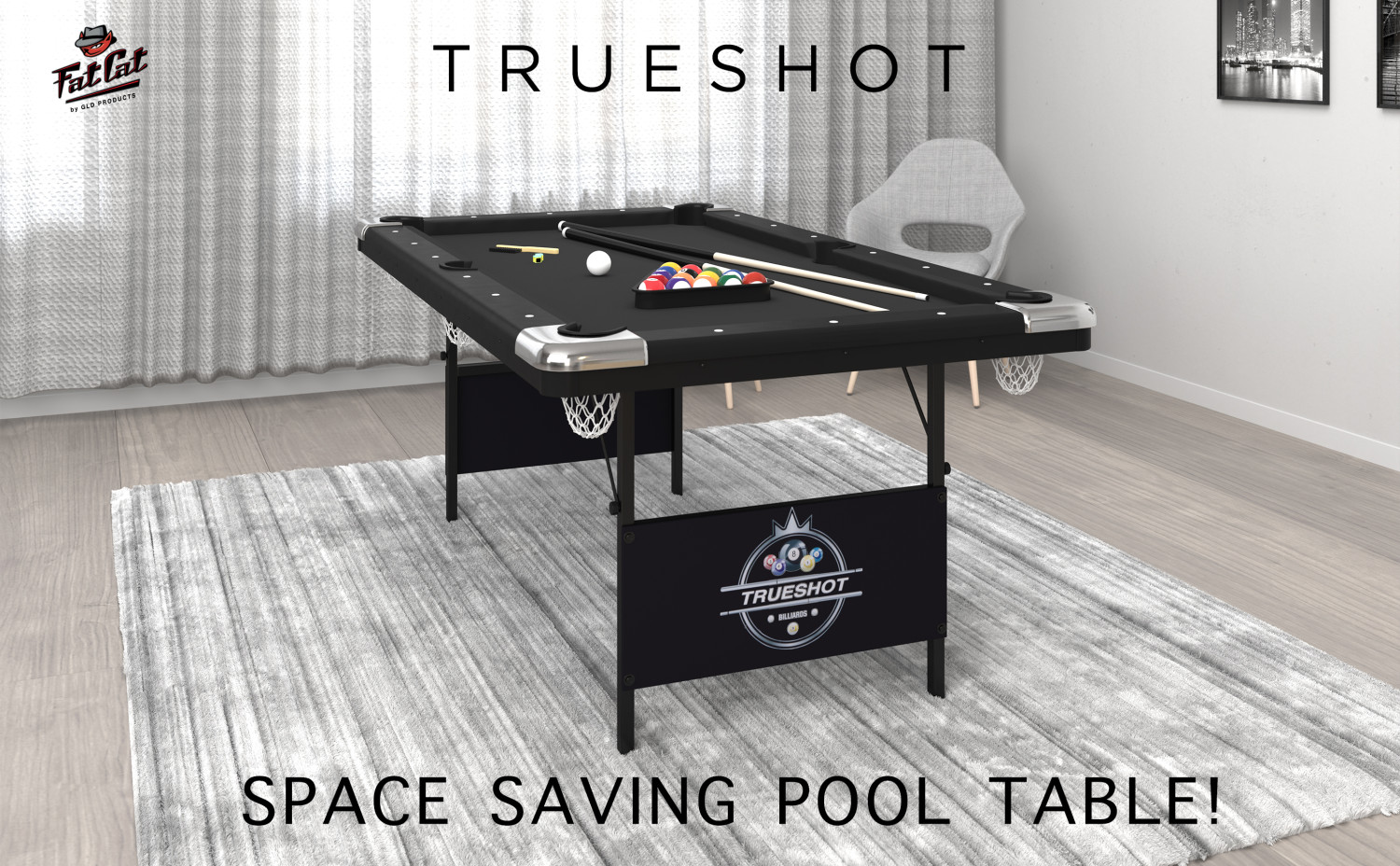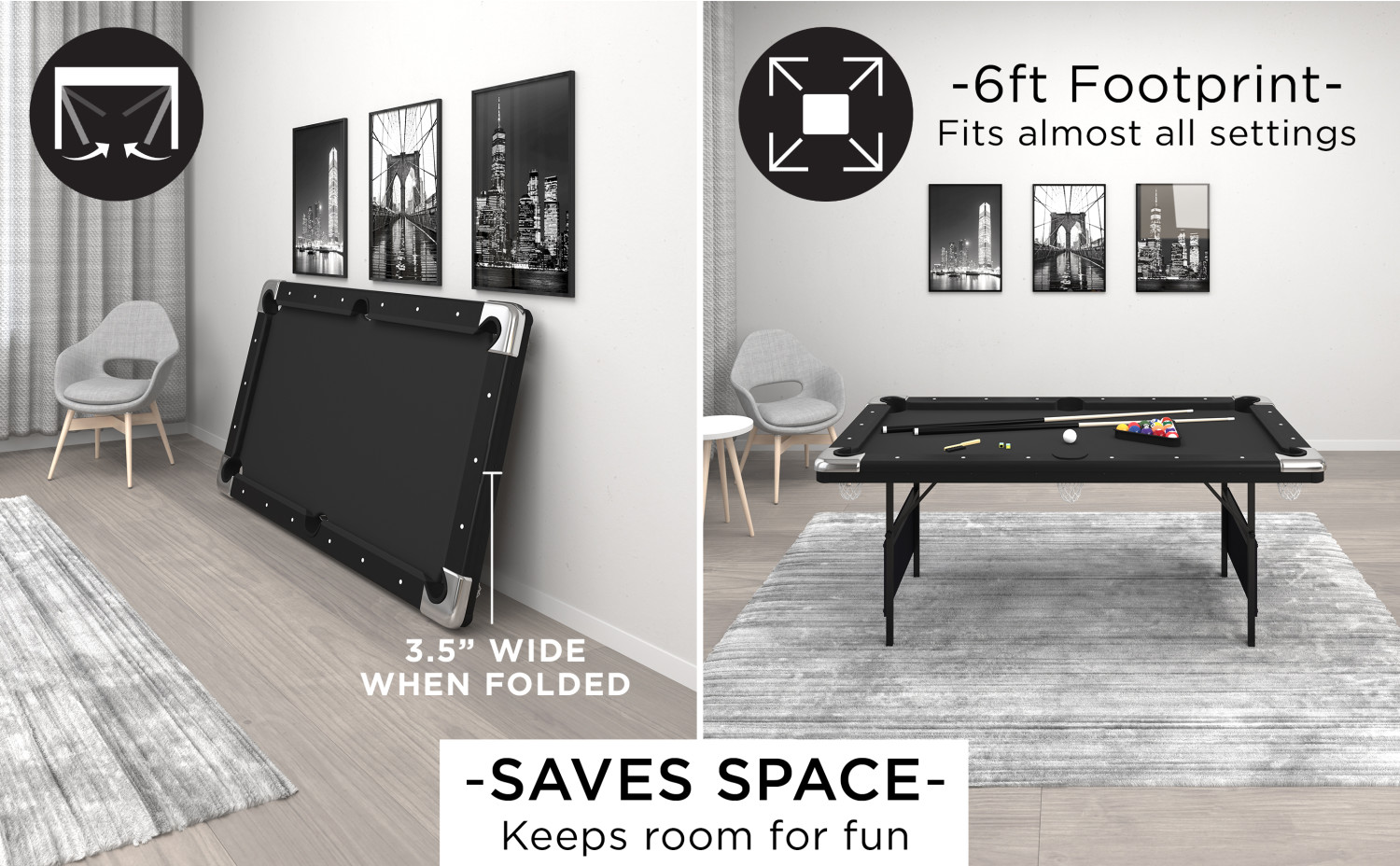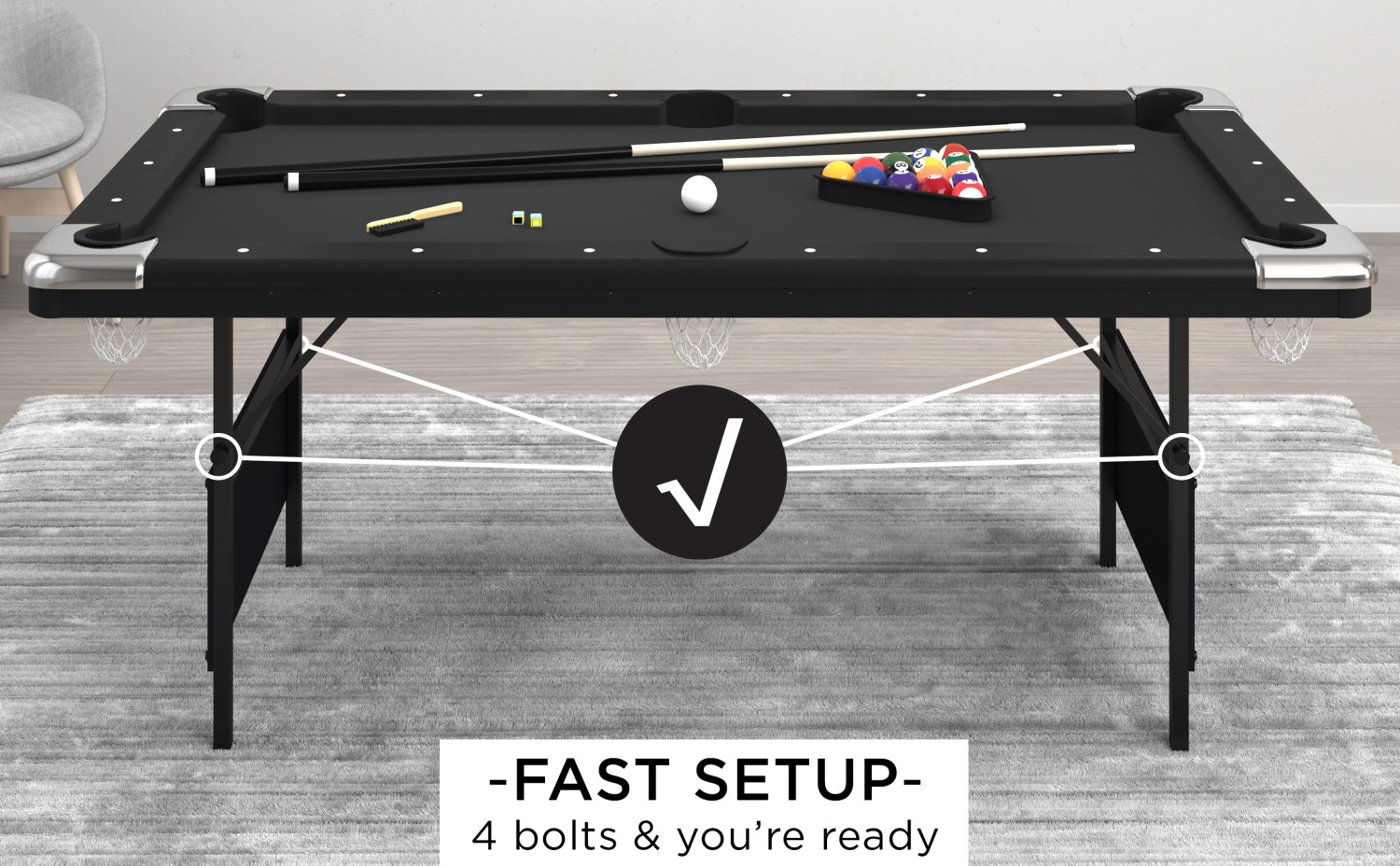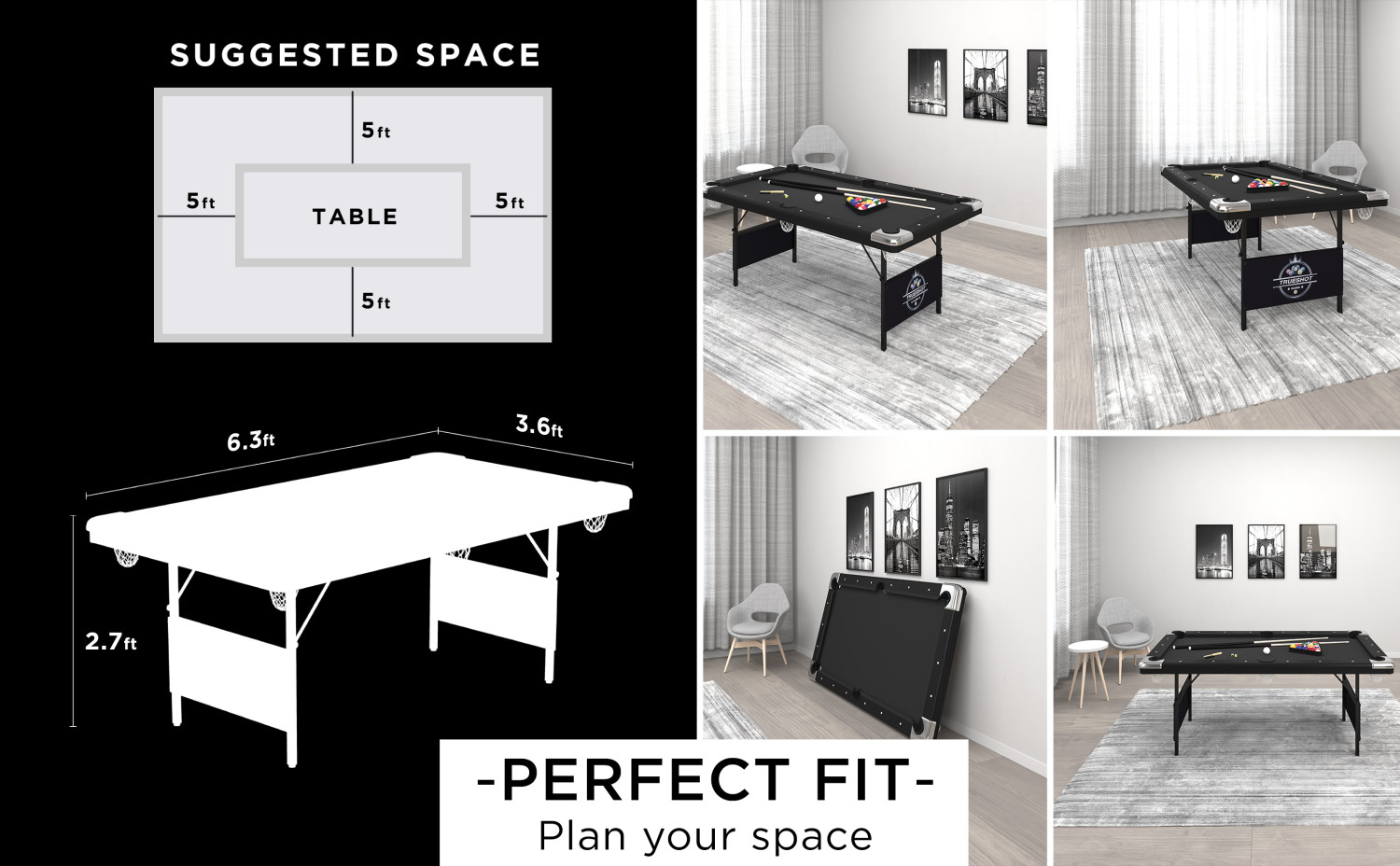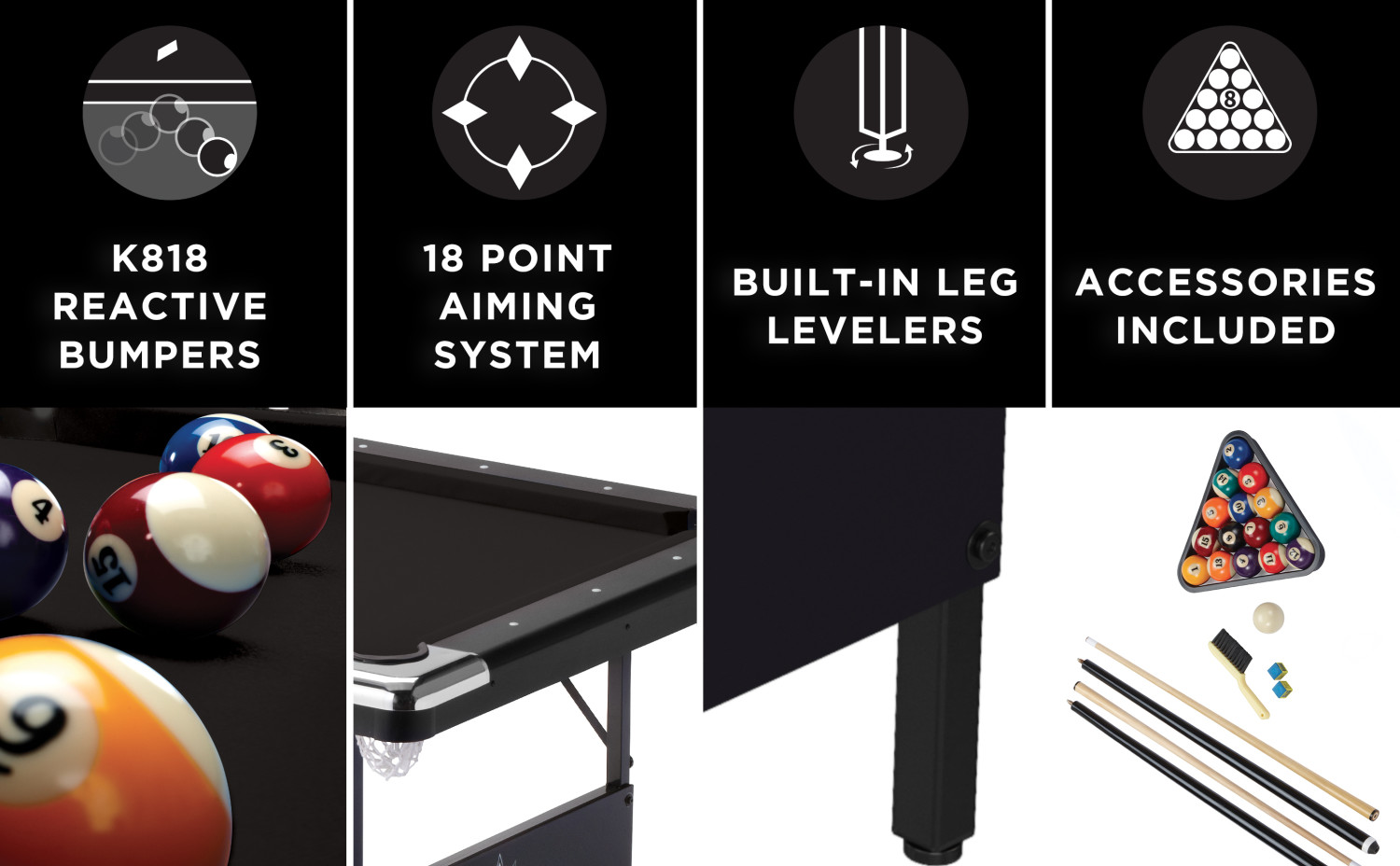 The Fat Cat Trueshot Foldable Billiard table is designed with two concepts in mind: convenience and fun. The folding leg design allows for incredibly easy set up. Simply unfold the legs, insert four screws to lock them in place, and you're ready to play. There are also built-in leg levelers so you can set it up anywhere. This 6' folding billiard table will fit in most spaces and the legs fold up easily so you can reclaim your room for get-togethers. The base of the Trueshot's rails are thicker, giving your table added support. The K-818 rubber bumpers ensure you get consistent bounces on every shot. The Trueshot pool table comes with everything you need to start playing: two 57" billiard cues, a triangle, a set of 2.25" billiard balls, and a table brush.
Compact Design - The Trueshot 6 foot pool table is ideal for smaller spaces, the built-in leg levelers and quick setup and takedown time will give your space ultimate flexibility
High Quality Build - The Trueshot features thick outer rails for maximum durability and K-818 rubber bumpers for consistent feedback on every shot
Safety First - The legs feature a locking mechanism to make sure they stay secure, ensuring a worry-free game experience
Easy Set Up - The Fat Cat Trueshot is ready to play right out of the box; simply unfold the legs, insert four bolts, and it's ready to use
Included - Two 57" billiard cues, a triangle, a set of standard 2.25" billiard balls, and a table brush
Warranty - 90 days
Product Details
| | |
| --- | --- |
| Length: | 76.0 in |
| Width: | 43.0 in |
| Height: | 32.0 in |
| Weight: | 114.0 lbs |
Download Product Manual
WARNING: This product may expose you to chemicals such as Formaldehyde which is known to the state of California to cause Cancer, birth defects and/or other reproductive harm. For more information, please go to P65Warnings.ca.gov
Questions about this warning? Check out our Prop 65 info page.
Shipping
This item Ships to
Delivery
Estimated between and
Our shipping team makes every effort to ship within 1-2 business days. Learn more here.
Fast Shipping

We work hard to ship your order as soon as possible, even orders with free shipping! We ship most orders out the same business day when placed before 1:00 PM Central time. Large game tables typically only take 1-2 business days to ship - one of the fastest ship times in the industry. Free shipping and any shipping estimates apply to US shipments only. Learn more about our shipping policies here.

Quality Guarantee

We stand by the quality of our products. If there's a defect, it breaks, or you've changed your mind, simply contact us and we'll work to make it right.

Manufacturer Direct

By shopping directly from GLD Products, we guarantee you're shopping the largest selection of Viper, Fat Cat, Casemaster, and Mainstreet Classics products found anywhere, on- or off-line. You can rest assured the product you receive is 100% authentic, and if anything goes wrong or you have any questions, our knowledgeable support staff is just an email away.

Secure Checkout

Financial security is essential when buying online. That's why we never store any of your payment information. We don't even see it! All payments are processed directly through Paypal, so your information is private, safe, and secure.
Excellent service
I ordered originally through Amazon and realized the price ordering direct was much cheaper. Getting the order cancelled from Amazon was problematic but GLD helped above and beyond.
The item arrived perfect and we loved playing with the pool table.
Great Table for the Money
Bought direct from GLD. They were very helpful in answering my questions. Table came well packaged. Very easy to assemble. Recommend upgrading to better billiard balls and cues; I did and made a huge difference. Having lots of fun!
Fat cat
It's exactly what we expected and very pleased with our choice.
Love my Fat Cat
Got the Fat Cat for my kids for Christmas and it has been a huge hit. The table itself is phenomenal considering it is foldable and can be store quite easily. Overall a great purchase.
Surprise
I purchased the Fat Cat Trueshot 6' poo l table about 2 months ago. It was beat up and the rubber cushions were bad. I was offered a new table top or return it for a full refund. I decided to keep it and replace the rubber cushions myself. Now l just love it. I can bank up to 5 rails now.