Fat Cat Reno 7.5' Billiard Table
Order in the next to get it by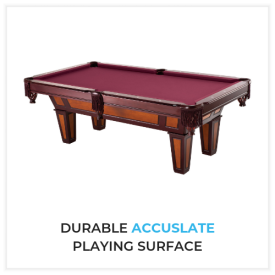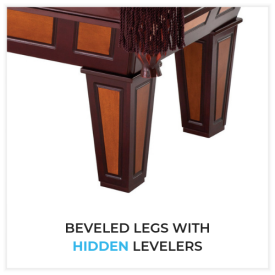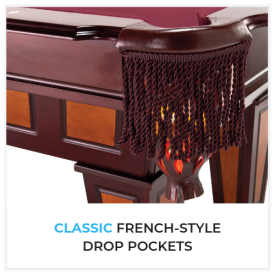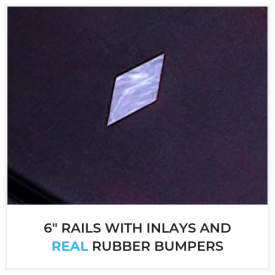 The Reno is sure to bring hours of fun to your whole family and complete the look of your game room with its classic style.
The new centerpiece of your game room is here with the Fat Cat Reno II Billiard Table! Maple veneers with a cherry finish give this pool table its signature look of a bygone era. French style drop pockets invoke a sense of tradition, the way a billiard table should look. With tapered legs that complement the traditional style, this table also fits nicely in more contemporary rooms. The legs feature levelers to ensure an even playing field. Completing the look, the playing surface is covered in a rich crimson cloth cover that can stand up to tough play and looks good doing it.
The Reno II features all the marks of quality found in a billiard table, but won't break the bank. This is made evident with the Accuslate playing surface, just beneath the cloth cover. Accuslate gives you a smooth playing surface for years, as it is resistant to warping and costs just a fraction of slate table tops. Surrounding the playing surface are solid maple rails, featuring the classic white diamond inlays to assist in lining up your shots. These rails feature tough yet elastic K66 rubber bumpers, which will retain their bounce for years to come.
Each Reno II comes ready to play once assembly is complete, as all the accessories are included: a complete set of billiard balls, two 57" cue sticks, one resin triangle, two pieces of cue chalk and a rail brush. Prepare for fun that lasts for hours with the Fat Cat Reno II!
Accuslate playing surface engineered to resist against warping
6" Solid wood rails with pearlized diamond inlays
K66 rubber bumpers for elastic responsiveness
French-style fringed drop pockets
Classic style matches traditional and transitional decor seamlessly
Seven year warranty on the Accuslate playing surface
Includes two pieces of chalk, one resin triangle, two 57" cues, one rail brush, and once complete set of 2.25" billiard balls.
Product Details
| | |
| --- | --- |
| Length: | 89.5 in |
| Width: | 50.5 in |
| Height: | 31.0 in |
| Weight: | 313.0 lbs |
| Warranty: | 90 days |
Download Product Manual
WARNING: This product may expose you to chemicals such as Formaldehyde which is known to the state of California to cause Cancer, birth defects and/or other reproductive harm. For more information, please go to P65Warnings.ca.gov
Questions about this warning? Check out our Prop 65 info page.
Shipping
This Item Ships to
Delivery
Estimated between and
Will usually ship within 1-2 business days.
We ship our products right away.
Your order will ship from Muskego, WI. Small parcel shipments typically take 3-5 days to arrive. LTL shipments (most game tables) typically take 5-10 days to arrive. All estimates apply to US shipments only. Free shipping applies to the contiguous United States.

Returns are easy.
Simply contact us for a returns number and send your item back to our warehouse. We'll get you a replacement or refund in a snap!
100% Quality Guarantee
We stand by the quality of our products. If there's a defect, it breaks, you've changed your mind simply send it back to us and we'll cheerfully issue a refund (re-stocking fees may apply on certain items).

Fast Shipping
We work hard to ship your order from our warehouse as soon as possible, even orders with free shipping! We ship most items out the same business day when placed before 2:30 PM Central time. Larger items like table games typically take only 1-2 business days to ship - one of the lowest ship times in our industry. All estimates apply to US shipments only. Free shipping applies to the contiguous United States.


Manufacturer Direct
By shopping directly from GLD Products, we guarantee you're shopping the largest selection of Viper, Fat Cat, Casemaster, and Mainstreet Classics products found anywhere, on- or off-line. You can rest assured the product you receive is 100% authentic, and if anything goes wrong or you have any questions, out knowledgeable support staff is just a phone call away.

Secure Checkout
Financial security is essential when buying online. That's why we never store any of your payment information. We don't even see it! All payments are processed directly through Paypal, so you information is private, safe, and secure.
Nice table for the Price
Extra long shipping time due to not being informed I was waiting for a local shipping company to call me to set a time for delivery. I dont normally answer strange numbers. Over all product is very nice and easy to assemble. I like the color and the size. I played lots of games so far with no complaints. There was some damage due to shipping and not worth complaining about. A piece of felt is not secured in a side pocket correctly and leaves a flap of material hanging. The pre drilled holes are not 100% correct. a bolt and nut were cross threaded and dont work properly. I need replacements but was able to put the pool table together without them. Im happy with the purchase and hope to get many years out of the table.