Viper Championship Backboard Set
Order in the next to get it by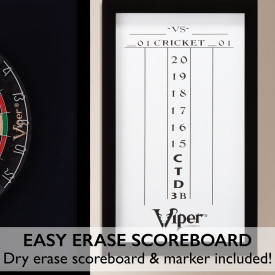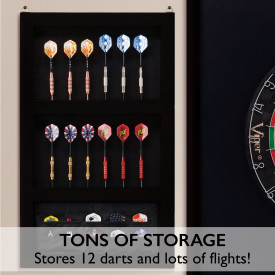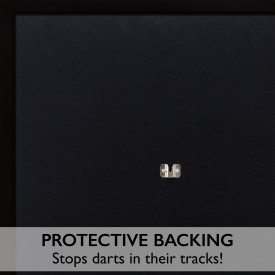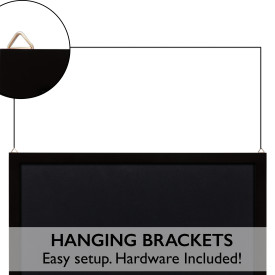 Accent your dart board and protect your walls with the Viper Championship Backboard Set!
This attractive backboard installs quickly and easily onto any wall. This tough and durable backboard will stand up to the most wicked throws, should an errant throw slip by. Its deep black cloth will blend seamlessly with any decor, handsomely framed by a dark mahogany finish. What makes the Championship Set stand out is that it is the complete package. Your game room will achieve that professional look with the included side panels - a beautiful dart storage display and Cricket scoreboard. When you're not flaunting your dart skills, you can show off your prized darts right next to your dartboard; up to four full sets will fit into this display. The Cricket scoreboard is dry erase for your convenience, no messy chalk dust to worry about. All of these pieces in one comprehensive bundle complete your dart experience for years to come. Easy-to-use mounting hardware makes installation a snap!
Defend your wall from dents and dings
Matching dart storage panels and scoreboard complete the overall look of this set
Dart storage panel has room for four complete darts sets and numerous extra flights
Cricket scoreboard is dry erase for quick and easy scorekeeping with minimal cleanup
Includes easy to use mounting hardware for quick installation
Product Details
| | |
| --- | --- |
| Length: | 29.0 in |
| Width: | 29.0 in |
| Height: | 1.0 in |
| Weight: | 8.7 lbs |
| Warranty: | 90 days |
WARNING: This product may expose you to chemicals such as Lead which is known to the state of California to cause Cancer, birth defects and/or other reproductive harm. For more information, please go to P65Warnings.ca.gov
Questions about this warning? Check out our Prop 65 info page.
Shipping
This Item Ships to
Delivery
Estimated between and
Will usually ship within 1-2 business days.
We ship our products right away.
Your order will ship from Muskego, WI. Small parcel shipments typically take 3-5 days to arrive. LTL shipments (most game tables) typically take 5-10 days to arrive. All estimates apply to US shipments only. Free shipping applies to the contiguous United States.

Returns are easy.
Simply contact us for a returns number and send your item back to our warehouse. We'll get you a replacement or refund in a snap!
100% Quality Guarantee
We stand by the quality of our products. If there's a defect, it breaks, or you've changed your mind, simply contact us and we'll work to make it right.

Fast Shipping
We work hard to ship your order from our warehouse as soon as possible, even orders with free shipping! We ship most items out the same business day when placed before 2:00 PM Central time. Larger items like table games typically take only 1-2 business days to ship - one of the fastest ship times in the industry. All estimates apply to US shipments only. Free shipping applies to the contiguous United States. Learn more about our shipping policies here.


Manufacturer Direct
By shopping directly from GLD Products, we guarantee you're shopping the largest selection of Viper, Fat Cat, Casemaster, and Mainstreet Classics products found anywhere, on- or off-line. You can rest assured the product you receive is 100% authentic, and if anything goes wrong or you have any questions, out knowledgeable support staff is just a phone call or email away.

Secure Checkout
Financial security is essential when buying online. That's why we never store any of your payment information. We don't even see it! All payments are processed directly through Paypal, so your information is private, safe, and secure.